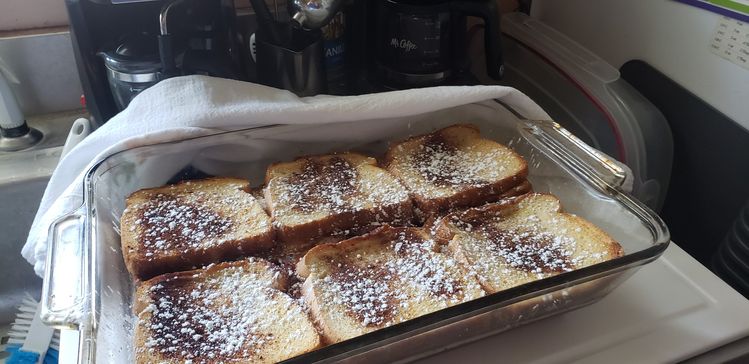 This French toast baked in the oven is so good! I made it for our family when they visited for our 8 year old's birthday and they loved it too! Since then, I have made French toast during several vacations and when we have been visited by our family and friends from out of town. It is one of my favorite breakfast dishes and I am often asked for the recipe.
This recipe for baked French toast is also simple to prepare. Just prepare it quickly the day before and it is ready to be baked in the morning. Then all you have to do is eat this delicious bread!
Ingredients :
1/2 cup melted butter
1 cup brown sugar
1 sliced Texas white bread
4 eggs
1 1/2 cups of whole milk
1 tablespoon vanilla
2 tablespoons brown sugar
2 teaspoons cinnamon
Itinerary
Grease a 9 x 13 mould. I'm personally a big fan of this Pyrex Basics 3 Quarter Oblong glass greasing dish on Amazon.com (affiliate link). I own two of them and use them frequently for cooking and baking. Mix melted butter and 1 cup of brown sugar in a small bowl and spread it on the bottom of your prepared 9×13 dish.
Beat together the eggs, milk and vanilla. Set aside. Mix 2 tablespoons of brown sugar and 2 teaspoons of cinnamon in another bowl and set aside.
Put a layer of bread on top of the butter and brown sugar mixture. Make sure the entire bottom of the pan is covered. Then pour half of your egg mixture over the layer of bread and sprinkle with half of the brown sugar and cinnamon mixture. Add another layer of bread. Pour the remaining egg mixture on top and sprinkle with the remaining cinnamon and brown sugar mixture. Cover tightly and refrigerate overnight.
In the morning, preheat the oven to 350 degrees and bake the French toast covered for 30 minutes, then uncovered for another 10 to 15 minutes. Sprinkle with powdered sugar just before serving if desired.