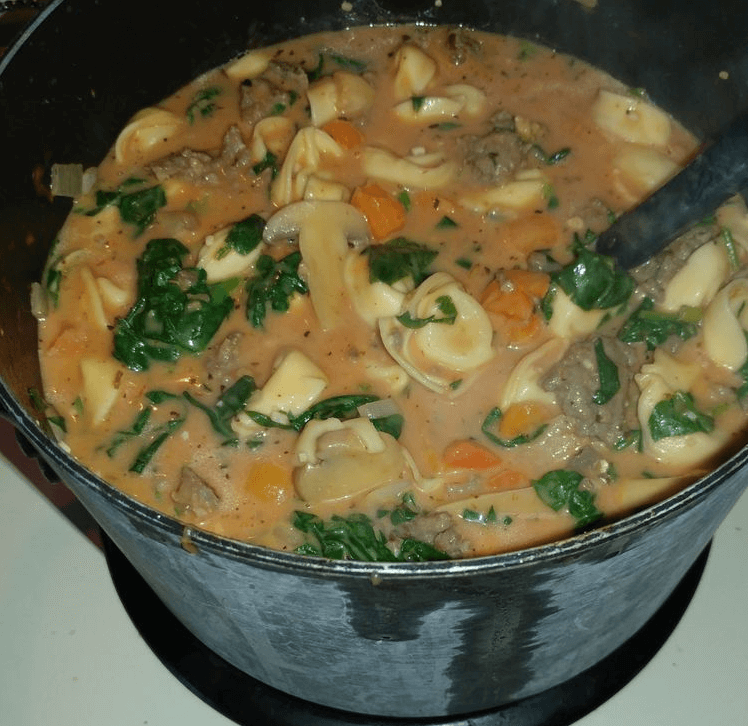 Tasty pieces of sausage and cheese-filled tortellini combine to make this Italian-style sausage tortellini soup, which in the end is very tasty – you only need one pot and the leftovers freeze surprisingly well!
Is it just me or did January literally last 7 years? And even though February is technically the shortest month of the year, it always seems to be the longest. 😂
….Aaaaaand if you are in a cold place, you will be bombarded with snow, rain, ice, all of the above. It goes without saying that soup is consumed in ridiculous quantities.
And if you've nodded your head to any of these things, it's clear that you need a bowl of this Italian sausage tortellini soup as much as I do.
Do you know how you technically make a meal out of it all in one pot? You eat it right out of the pot. And I recommend 12/10.
Ingredients
1 pound sausage, removed from its casing
1 medium onion, finely diced
3 cloves of garlic, chopped
2 teaspoons of dried basil
1 teaspoon dried oregano
2 tablespoons of tomato paste
1 can of crushed tomatoes
4 cups of beef broth
8 oz cooked tortellini pasta
1/4 cup half and half cream
Salt and pepper to taste
Grated Parmesan cheese and chopped parsley for garnish
Instructions
In a Dutch oven or large pot over medium-high heat, sauté the sausage and onion until the sausage is no longer pink. Add garlic and sauté for 1 minute until fragrant.
Reduce heat to medium and add basil, oregano and tomato paste. Cook 1 to 2 minutes until fragrant. Add the crushed tomatoes and beef stock.
Simmer the soup over medium heat, then reduce heat to medium-low and simmer for 10-15 minutes. Add cooked tortellini and half and half cream, stirring until combined. Season the soup with salt and pepper to taste and serve hot with grated parmesan and parsley on top. Enjoy!