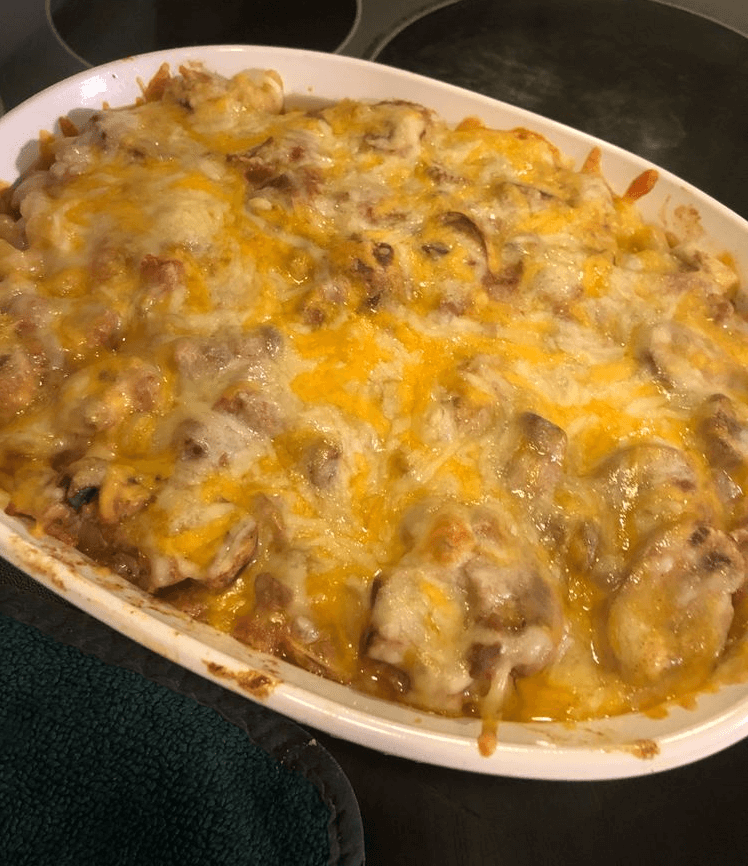 There are the time-consuming casseroles that are completely homemade, and there are the casseroles that take a few basic ingredients and quickly combine them in a way that makes them even better, even more comforting. This Hamburger Supreme Casserole is one of the latter, the type of comfort food casserole that families have turned to for decades when they want something easy and delicious. It's humble, but it still hits the spot.
This is a hearty dish – it has macaroni and ground beef, tender canned mushrooms and lots of melting cheddar cheese, all in a creamy, flavorful base.
Since the cream of mushroom soup is the main source of creaminess in this dish, there is no need to prepare a sauce. Simply brown the ground beef and onions, then stir in the mushrooms, soup and a little milk. It's a quick and convenient sauce, but more importantly, it's really delicious!
INGREDIENTS
1 lb. lean ground beef
1 small onion, chopped
1 can cream of mushroom soup (10.5 oz)
1/2 cup milk
1/2 teaspoon garlic powder
1/2 teaspoon dried thyme
1 can (4 oz) mushrooms, drained
2 cups macaroni, uncooked
2 cups sharp cheddar cheese, grated
Kosher salt and freshly ground black pepper, to taste
PREPARATION
Preheat oven to 350°F and grease a 2-quart casserole dish with butter or non-stick spray. Set aside.
Cook macaroni 1 to 2 minutes less than package directions, drain and set aside.
In a large skillet, season beef with garlic powder, thyme, salt and pepper and sauté with onions until cooked through and onions are tender.
Stir in soup, milk and mushrooms and season to taste.
Place half of the meat mixture in the bottom of the baking dish. Top with half the macaroni and half the cheese. Top again with remaining meat and remaining macaroni.
Bake uncovered for 20 minutes. Top with remaining cheese and bake until cheese is bubbly and golden, about 10 minutes more.
Recipe adapted from The Southern Lady Cooks.