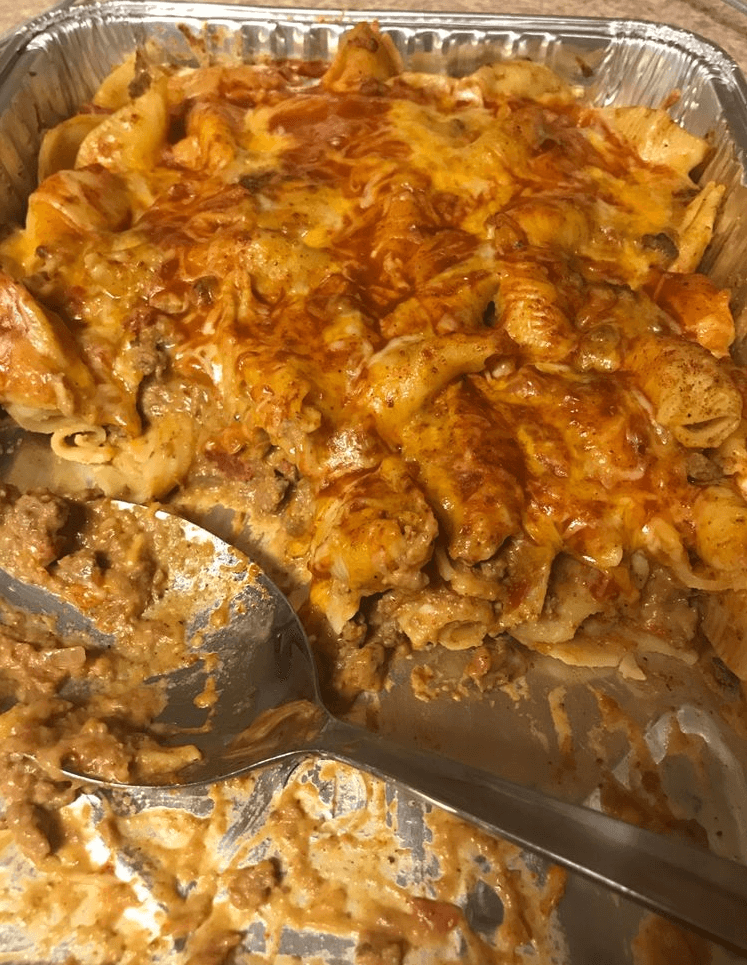 This 5-ingredient cheesy taco pasta stew is one of those proven recipes that you can make based on what you have on hand or enjoy as an easy weekday dinner without all the extras.
It's great in its basic form, but it's also very versatile. I'll show you how to prepare this taco pasta dish in its simplest form and then give you some ideas on how to modify it, make it healthier, more refined and even more delicious.
This taco pasta is so easy to make!
This pasta recipe is delicious and yet so simple to make using only ground beef, taco seasoning, salsa and cheese. Add sour cream, milk or cream cheese to create a creamy version.
See step by step how easy it is to make :
How many people can this taco pasta stew feed?
It's a BIG stew. It will feed about 8 people in good portion sizes. So it's a great recipe to feed a crowd, for example if you're having a party or a big family dinner. However, if you have a medium sized family, you can divide this recipe in half. You can also prepare this recipe, but divide it into two casserole dishes and freeze one for later.
Ingredients
2 pounds of ground meat (beef, chicken and/or turkey) *See post for more ideas
1 box of pasta
1 jar of salsa (15.5 oz)
1/2 cup shredded cheddar or Mexican cheese mix
1 package of taco seasoning + 1 cup of water or milk
Optional: Add 1/2 cup of cream cheese, sour cream, or half and half for a creamier sauce.
Instructions
Cook pasta according to package directions, drain and set aside. To do this, use only one pot, use a Dutch oven!
Brown the meat in your oven or in a cast iron pan. Once the meat is cooked, drain the fat.
3) Add the cooked pasta to the drained meat (if you don't have a Dutch oven or cast iron pan, you can put everything in a casserole). Then cover it with meat.
Then sprinkle the meat with the seasoning packet and pour water over it. Then add the salsa.
Mix all the ingredients and add grated cheese.
Bake in the oven (400˚) for 18-22 minutes or until the cheese is melted and the sauce is bubbling.
Serve with toppings of your choice. See the post above for ideas!