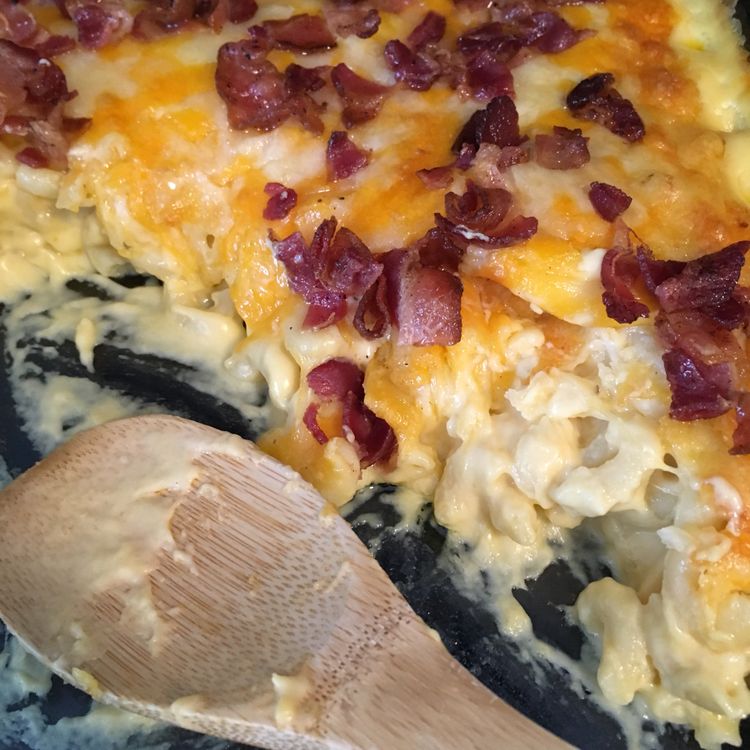 Mac and Cheese Casserole is creamy, cheesy and very easy to make. This version of homemade baked Mac and Cheese Casserole is my most favorite and it's a huge hit with kids and adults alike.
Casserole recipes are a favorite around here. They are easy to make and usually make enough leftovers so we don't have to worry about cooking dinner the next day again.
Also, they can be prepared ahead of time and stored in the freezer. When the time is ready, you can easily reheat them. Among our most popular once are Cheesy Crack Chicken Casserole, White Pizza Casserole, and Chicken Hash-brown Casserole.
This Mac and Cheese Casserole is all you need for a comforting and tasty meal. It is creamy and smooth, with strong cheesy flavors that will melt in your mouth. The bacon topping is the perfect finish for this dish since it adds some crunchiness to it and some additional flavor. The casserole is also made with three types of cheese: cream cheese, mozzarella, and sharp cheddar cheese.
Ingredients
1 pound elbows macaroni cooked per box directions, aim for al dente
1 tablespoon olive oil
Cheese Sauce:
4 tablespoons butter unsalted
1/4 cup all-purpose flour
3 cups milk
1 cup heavy whipping cream or light cream
1 can of 14 oz. evaporated milk
2 tablespoons cornstarch
1/4 teaspoon salt
1 teaspoon garlic powder
1 teaspoon onion powder
1 teaspoon ground thyme optional
1 teaspoon paprika optional
1 teaspoon mustard powder
1/4 teaspoon red pepper flakes optional
1/2 cup sour cream
4 oz. cream cheese cubed and at room temperature
3 cups cheddar cheese freshly grated or buy pre-shredded
1 cup mozzarella cheese freshly grated or buy pre-shredded
Buttery Cracker Topping:
1 1/2 cups cracker crumbs I used Ritz crackers
6 tablespoons unsalted butter melted
Other Toppings:
1 cup mozzarella cheese shredded
1 cup cheddar cheese shredded
10 bacon slices cooked
Instructions
Preheat oven to 350 degrees F.
Lightly grease a 9×13 baking dish with butter or with non-stick cooking spray. Set aside.
Cook pasta per box directions, aim for al dente. Drain, mix with olive oil and set aside.
Cheese Sauce:
Place a large sauce pan over medium heat and once its hot add the butter. Stir and melt the butter, carefully not to burn it.
Add the flour and whisk until fully combined with the melted butter.
While still whisking, little by little add the milk, stirring to combine. Take your time and don't rush through this step.
In a small bowl, whisk cream and cornstarch until fully combined and cornstarch is fully dissolved. Add the mixture to the pan. Stir to combine.
Add the evaporated milk and stir to combine. Add onion powder, garlic powder, ground thyme, paprika, mustard, red pepper flakes and salt.
Still over medium heat, bring the mixture to a boil and let it simmer for about 2 minutes.
Stir in sour cream and cream cheese until fully combined. If the sauce is too thick you can add more milk or some chicken broth. Taste and adjust for salt and pepper.
Reduce heat to low and add 3 cups of cheddar cheese and 1 cup of mozzarella cheese, freshly grated or pre-shredded. Stir to combine, until the cheese is fully melted.
Remove pan from heat and add the cooked elbows macaroni. Stir to combine.
Transfer the mixture to the prepared casserole dish.
Buttery Cracker Topping:
In a medium bowl combine cracker crumbs with melted butter and stir using a fork until fully combined.
Other Toppings:
Level the top with a spatula and sprinkle 1 cup of mozzarella cheese and 1 cup of cheddar cheese evenly over the surface of the casserole.
Sprinkle the Buttery Cracker Topping evenly over the surface and top with chopped cooked bacon if using.
Bake:
Bake the casserole uncovered in the preheated oven for 25-30 minutes. Until the top is golden brown and bubbly.
Remove from oven and let it rest for 15 minutes before serving.
Serve topped with extra bacon and if desired chopped parsley.