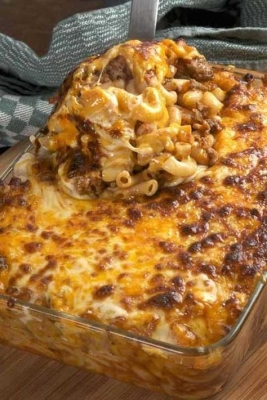 I loved it. I served it with cornbread. My bf loved it. So good I sent the recipe to everyone I know. So good I have made it once a week for 3 weeks. I did change it a bitt. Added some garlic and added hot pepper flakes to the burger. Also added some colby jack cheese on top. I made it with expesive and cheap chilli. It works well with both. I even printed it out and added it to my recipe box with all my grandma's old recipes.
Tried this recipe again last night and used Campbells Chunky Chilli. This dish came out with very little flavor. I would not recommend using Campbells Chilli use Nally's or store brands even Aldi's chilli. I have used many different types of Chilli and this recipes works, but not with Campbells.
INGREDIENTS:
1 lb box medium shells
1 lb ground hamburger, cooked with garlic, onion, salt and pepper to taste
2 cans tomato soup
1 cup cheddar cheese
1 cup mozzarella cheese
INSTRUCTIONS:
Cook noodles according to package directions. Drain.
After browning hamburger, add 2 cans tomato soup to the frying pan (with the hamburger).
Add ½ can water.
Stir and cook over medium heat for 3 minutes.
Pour noodles in a greased 9×13 baking dish.
Pour hamburger mixture over noodles and stir.
Sprinkle cheese over casserole and cover with foil.
Bake in a 375* oven for 20 minutes.
Remove foil and bake for 10 minutes longer.
Can bake under broiler for 3-5 minutes to brown cheese, if desired.