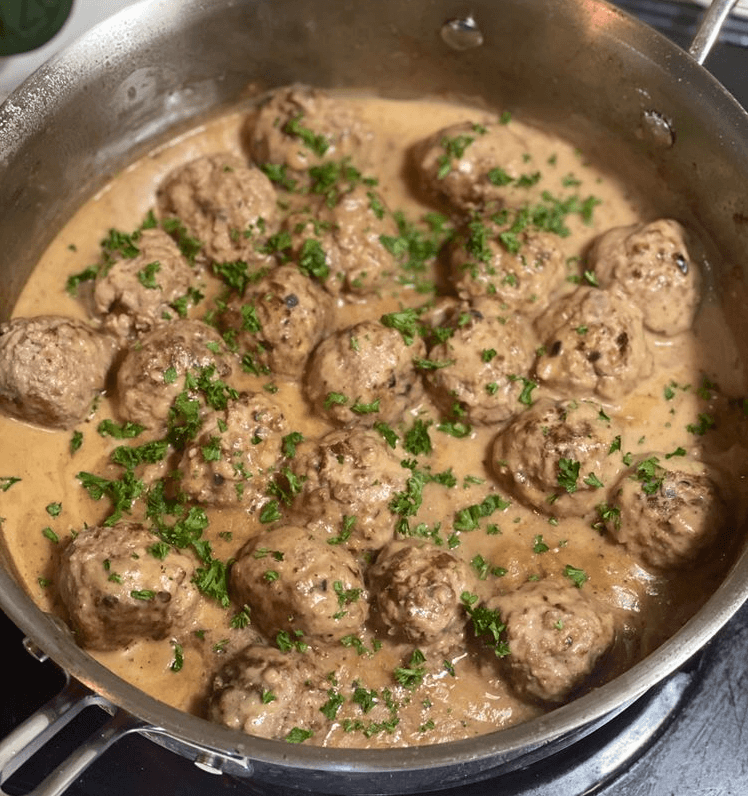 The countdown until school starts is happening at our house. We have been SO busy getting ready. My oldest is starting Jr High! I just can't believe it. Even when I was registering him I remembered walking down the halls of my jr high like it was yesterday. It is so weird to be a parent and watch your kids grow up so fast. And then you remember that you are just getting old. 😉
With school starting I am all about easy and delicious weeknight meals. Swedish meatballs are such a classic perfect meal!
And the best part… my entire family LOVES them!
Ingredients
1 pound ground beef
¼ cup panko bread crumbs
1 tablespoon parsley, chopped
¼ teaspoon ground allspice
¼ teaspoon ground nutmeg
¼ cup onion, finely chopped
½ teaspoon Garlic Powder
⅛ teaspoon Pepper
½ teaspoon salt
1 egg
1 tbsp. olive oil
5 tbsp. butter
3 tbsp. flour
2 cups beef broth
1 cup heavy cream
1 Tablespoon Worcestershire sauce
1 tsp. Dijon mustard
salt and pepper to taste
Instructions
In a medium sized bowl combine ground beef, panko, parsley, allspice, nutmeg, onion, garlic powder, pepper, salt and egg. Mix until combined.
Roll into 12 large meatballs or 20 small meatballs. In a large skillet heat olive oil and 1 Tablespoon butter. Add the meatballs and cook turning continuously until brown on each side and cooked throughout. Transfer to a plate and cover with foil.
Add 4 Tablespoons butter and flour to skillet and whisk until it turns brown. Slowly stir in beef broth and heavy cream. Add worchestershire sauce and dijon mustard and bring to a simmer until sauce starts to thicken. Salt and pepper to taste.
Add the meatballs back to the skillet and simmer for another 1-2 minutes. Serve over egg noodles or rice.
Notes
Recipe inspired by Taste of Home magazine
Source: therecipecritic.com