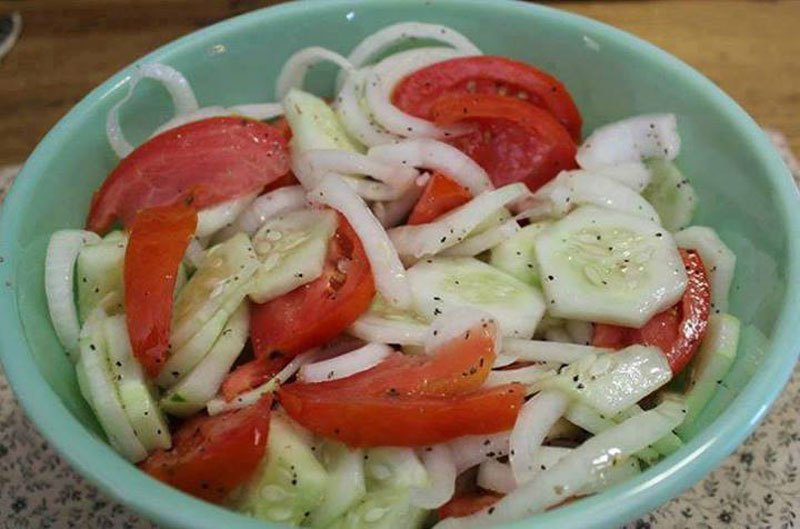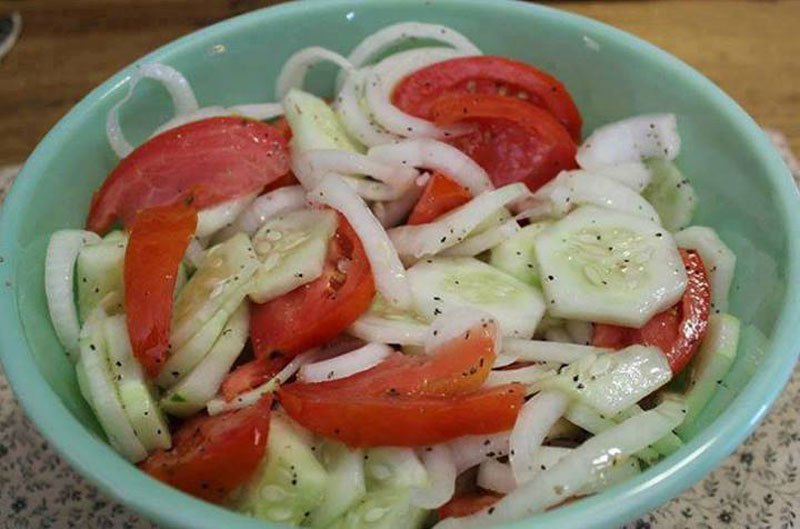 Today, I share another favourite from my childhood, a summer tradition at my grandparents' house for every barbecue: cucumber salad! Crunchy cucumbers and crispy summer onions, cut into thin slices, mixed with a simple and delicious dressing made with vinegar, sugar and water.
Cucumber Salad – A classic old school recipe. Refreshing, fresh and crispy, perfect for hot summer days. It's the perfect side dish for any family gathering, picnic, barbecue or potluck – and best of all, it's cheap!
Whenever my grandfather grilled steaks, hamburgers or hot dogs in the summer, it was always one of the side dishes. My great-grandmother, (Grandma B), loved this salad, hence the name.
Over the years, I've changed the recipe a little bit, adding tomatoes and dill to add another layer of flavour. I also like to mix a little red onion with a white onion or Vidalia.
Ingredients:
2 large cucumbers, peeled and sliced thin
1 small onion, sliced thin (use your favorite onion – Vidalia is great, sweet onion or white). I like to mix in a little red onion for color, I also love the taste.
1 cup apple cider vinegar
1 cup water
1/4 to 1/2 cup sugar (use less or more to your liking)
salt and pepper to taste
Optional
toss in fresh tomatoes (use your favorite – cherry, plum, fresh from the garden)
1/2 to 1 teaspoon dried dill or 3 teaspoons fresh dill weed
English cucumbers are great for this salad
Directions:
Place sliced cucumbers and onions (tomatoes if you are using them) in a medium size bowl.
In a separate medium size bowl (or large 4 cup measuring cup), mix vinegar, water and sugar until sugar is dissolved.  Pour over veggies. If adding dill, toss in dill and mix well. Cover and place in fridge for two to three hours before serving.  Serve chilled. Salt and pepper to taste.  Enjoy!
Thanks for stopping by!
Source: Allrecipes.com /