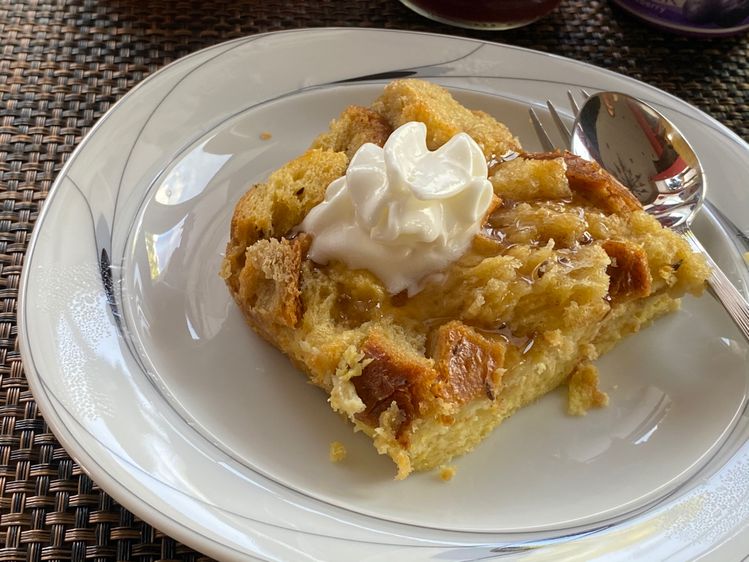 I have insomnia off and on and one night when I was up till the wee hours I figured I would just get some of my cookbooks out and see what I could find to make and I came across a caramel apple bread pudding recipe that sounded so good and I just happened to have all the ingredients so I went to work and this was the end result with just a tweak here and there to make it my own. I of course had to eat some while it was still warm just to make sure it was fit for the family the next morning and it passed with flying colors. An awesome Sunday morning breakfast, lunch and dinner 🙂
Absolutely beautiful pudding. The cinnamon and nutmeg really gave it a kick. I served it with vanilla icecream and when I make it again and I surely will I won't be changing a thing.
Awesome bread pudding! I added chopped pecans because I had them on hand. Great for fall or anytime. Would make a good dish to take for a dessert or breakfast casserole.
Cook time: 50 Min | Prep time: 30 Min | Serves: 12-15
INGREDIENTS
6 c stale white or wheat bread cut or torn into small pieces ( i use a mix of both)
3 c any kind of apple peeled and diced small
5 whole eggs, beaten
3 c half and half
1 c splenda brown sugar blend
1/4 tsp salt
2 tsp vanilla extract
2 tsp apple pie spice
1 stick butter, cold
1 can(s) sweetened condensed milk
1 bag kraft caramels, unwrapped
INSTRUCTIONS
1. Preheat oven to 350. Lightly grease or spray a 9×13? baking dish with shortening or non-stick cooking spray.
2. In a large bowl, toss together the bread cubes and the apple pieces. Transfer to the baking dish. In the same large bowl, whisk together the remaining ingredients except for the butter. When combined, continue to whisk while pouring over the bread/apple mixture (just to make sure the spices are evently distributed). Gently combine the bread and egg mixture, making sure each piece of bread is soaking in part of the egg and milk mixture. Allow to stand for at least 15 minutes (longer, if you can; you could even do this the night before, cover it tightly, and then bake it in the morning).
3. Place the condensed milk into a microwaveable dish and put in half the caramels and microwave for 1 minute, then stir. Keep microwaving in 30 second intervals until all caramels are melted and blended smoothly with the condensed milk, make sure you add the whole bag of caramels to the milk. This process should take about 3 minutes.
4. When the egg/milk mixture has mostly soaked into the bread, dab the butter over the bread and drizzle half the caramel mixture over the top, place the baking dish in the preheated oven and bake for 40-50 minutes or until the center is set but not dry. It will have a slight jiggle to it. Remove from oven and allow to stand for 5 minutes.
5. Just before ready to serve, warm the caramel up again to thin it, about 18 seconds, and drizzle on top of each serving. Serve with vanilla ice cream to make a delicious desert! Enjoy.