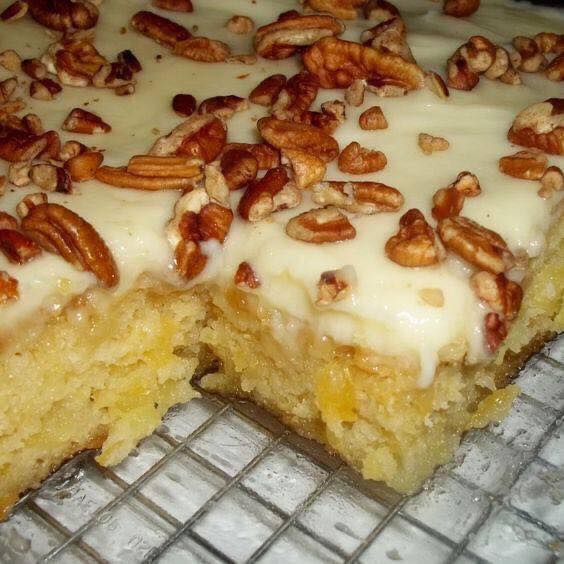 I love one bowl recipes, and this one is no exception.
You spread the cream cheese frosting over it while it's still hot, so the frosting melts and seeps into the cake, making it a little gooey and dense.
– I made this cake and it was wonderful!!!! The cake is moist and tender and pinapple-y ….. and the cream cheese frosting tastes like cheese cake!!! I'll surely make this again!!
– I made this last night for our cookout today and it was AWESOME !!!!! Everyone loved it. It's a keeper. Thank you for the recipe. 5 stars all the way. This has to be the easiest cake I ever made. I put crushed walnuts and shredded coconut on top. I see why it's Blue Ribbon Worthy.
– I made the easy pineapple cake and took to the office yesterday It's very easy and very sweet. But very good and easy. Everybody loved it and said make it any time. I would give this cake a Blue ribbon
Cook time: 40 Min Prep time: 5 Min Serves: 15
Ingredients
THERE IS NO BUTTER OR OIL IN THE CAKE, BUT SO AS NOT TO MISLEAD ANYONE, THERE IS BUTTER IN THE FROSTING
2 c all purpose flour
2 c sugar
2 eggs
1 tsp baking soda
1 tsp vanilla
pinch salt
1 – 20 oz can of crushed pineapple ( undrained ) in it's own juice – not syrup
1 c chopped nuts, optional
CREAM CHEESE FROSTING
1/2 c butter or 1 stick
1 – 8 oz cream cheese, softened
1 tsp vanilla
1 1/2 c confectioners' sugar
coconut for garnish – optional
Directions
1. Preheat oven to 350 degree F. Mix all of the cake ingredients together in a bowl. Pour into a greased 9X13 inch pan and bake at 350 for 35 – 40 minutes (until top is golden brown).
2. Frosting: Beat butter, cream cheese and vanilla together until creamy. Gradually mix in powdered sugar.
3. Frost cake with cream cheese frosting while still warm. Sprinkle with chopped nuts if desired.
4. Enjoy!
Last Step: Don't forget to share!