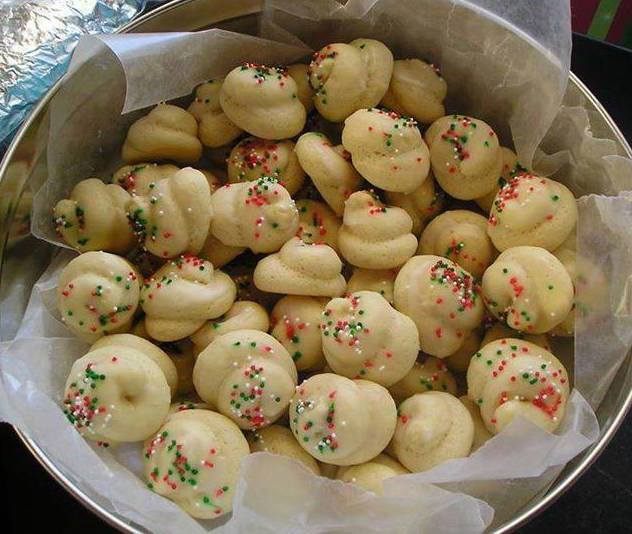 Soft cut out sugar cookie that I have used for years. I sprinkle with colored sugar before baking or you could also try icing them when cool.
WONDERFUL! For a perfect, soft sugar cookie, the following small modifications will get you there…use butter instead of marg, and melt it over the stove
these cookies puffed up nicely and held their shape when using cookie cutters. Very buttery and not overly sweet. They tasted wonderful with just a bit of colored sugar sprinkled on top.
I have been trying to find the perfect cut out cookie recipe and this is the best so far. Like some others I also used butter and I cut back the flour to 3 cups.
This is the first time I ever successfully made sugar cookies. They were wonderful. I did follow recommendations of reducing flour to 3 cups oven temp to 350 and used butter instead of margarine.
Ingredients :
Cookies :
4 eggs
1 cup sugar
½ cup butter
2 tsp. vanilla
3½ cup flour
4 tsp.baking powder
Icing :
2 cup sifted confectioner's sugar
2 tsp. vanilla
6 tsp. water
Instructions :
Cookies :
In a bowl sift together the flour and baking powder , set aside.
In a large mixing bowl, cream together the butter and sugar.
Add the eggs, one at a time, mixing well. Mix in the vanilla. Add in the flour mixture.
Knead until dough is firm and not sticky, adding more flour if necessary.
Refrigerate 1 hour.
Cut off small amount of dough and roll on floured surface into 6 inch strips.
Twirl into shape and place on greased cookie sheets.
Bake at 375 degrees for 8-10 minutes (the bottom should be lightly browned but the tops should remain light).
Remove cookies to wire rack and cool completely before glazing.
Icing :
Combine the Icing ingredients in a bowl until just smooth. You want it more thick than thin, but still runny.
Dip the tops of the cooled cookies into the glaze, then return to the wire rack, allowing the glaze to drip down the sides of the cookie.
Top with sprinkles, while glaze is still wet