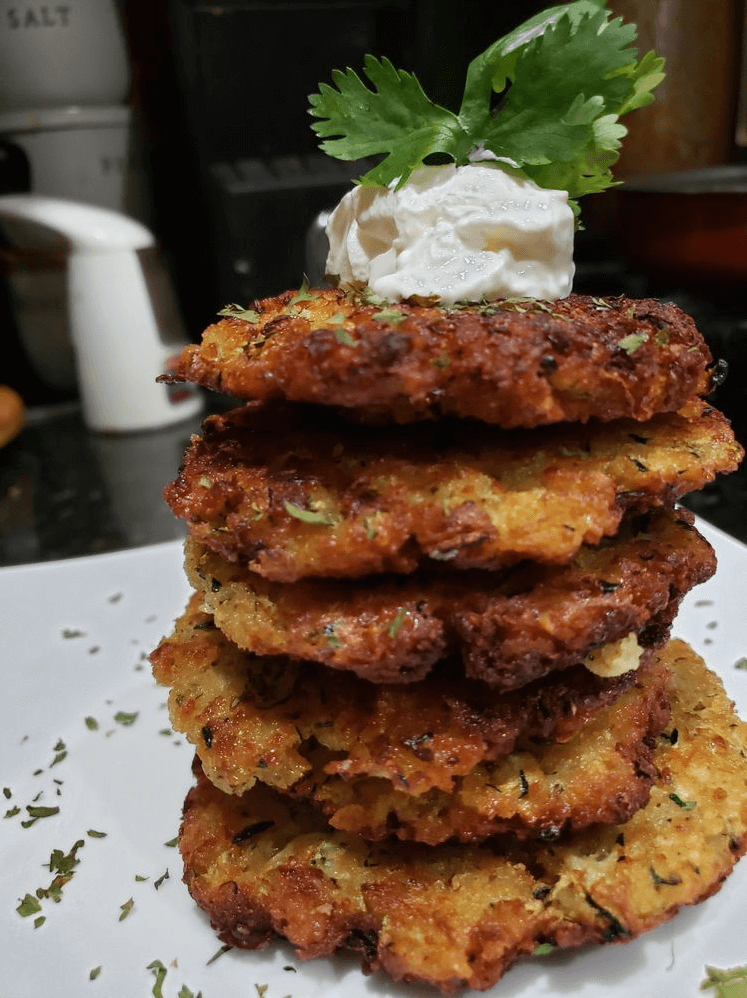 This Panko Parmesan Zucchini Fritters recipe is easy to make, healthy, and the perfect way to use those garden-fresh zucchinis!
I'm always late to the zucchini game. Just like how it took me years to join the zoodle game, I'm finally getting to the zucchini fritter game. And like I felt with the zoodles, I can't believe I've been depriving myself of this deliciousness for so long. This Panko Parmesan Zucchini Fritters recipe is our new go-to zucchini fritters recipe!
I finally planted our garden and our zucchinis a couple of weeks ago. Every year Memorial Day rolls around and I haven't done anything. And then every year I vow to be better next year. Oy. So the beautiful zucchinis that I shredded for these fritters, they were organic beauts from our Imperfect Produce box. But in a couple of months we'll be in full zoodle, relish, and now zucchini fritters overload!
Ingredients
1 1/2 lbs shredded zucchini approximately 4 cups
1 1/2 teaspoon kosher salt divided
3 garlic cloves minced
1/3 cup fresh grated Parmesan cheese
2/3 cup panko bread crumbs
1 large egg
1/2 teaspoon onion powder
1/2 teaspoon garlic powder
1/2 teaspoon oregano
1/4 teaspoon fresh ground black pepper
1/2 tablespoon olive oil
Instructions
Shred zucchini and place in colander in sink or over large bowl and sprinkle with 1 teaspoon kosher salt. Let sit for 10 minutes to sweat excess moisture. Press and squeeze out remaining moisture, or use a cheese cloth and wring out moisture.
Zucchini to a large bowl and add remaining ingredients. Mix well.
Heat a saute pan to medium high and add olive oil. Scoop 1/2 cup of batter into your palm an form into a patty and add to pan. Repeat with remaining batter.
Cook on each side for 2-4 minutes until batter begins to brown slightly.
Serve immediately.
Notes
Make approximately 7 fritters.I like these fritters a little bigger and thicker.  You can use only 1/4 cup of batter and make smaller, thinner fritters, too!
Nutrition
Calories: 
70
kcal
 | 
Carbohydrates: 
8
g
 | 
Protein: 
4
g
 | 
Fat: 
3
g
 | 
Saturated Fat: 
1
g
 | 
Cholesterol: 
4
mg
 | 
Sodium: 
625
mg
 | 
Potassium: 
281
mg
 | 
Fiber: 
1
g
 | 
Sugar: 
3
g
 | 
Vitamin A: 
235
IU
 | 
Vitamin C: 
18
mg
 | 
Calcium: 
88
mg
 | 
Iron: 
1
mg