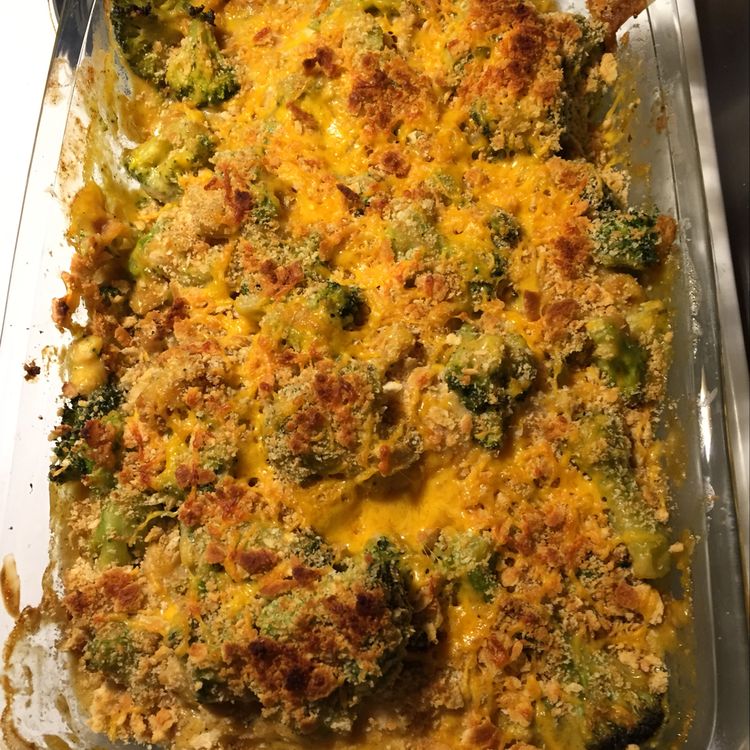 Cheesy chicken-broccoli casserole. Eat as-is or serve over mashed potatoes or rice.
Yes. I made the recipe then put it in a pie crust to make a pot pie. Wonderful. Being on Keto it fits the bill. Just use keto crust. You can also put it in cupcake pan and make mini pies.
Loves it. I will make this an on going meal from now on. So easy to make and very delicious !!!
I did alter a little. Used a condensed cream of cheddar soup instead of shredded cheddar and used cream cheese instead of sour cream. Poured in short fat rigatoni before adding to the casserole dish.
My husband and I loved this. I did use roasted chicken rather than a boiled chicken. I also think this would be great for using left over chicken and broccoli!
INGREDIENTS :
1 teaspoon unsalted butter, or as needed
2 eaches skinless, boneless chicken breasts, cubed
3 cups finely chopped broccoli
2 (10.5 ounces) cans condensed cream of chicken soup
1 cup shredded Cheddar cheese
1 cup shredded Parmesan cheese, divided
½ cup shredded mozzarella cheese
½ cup sour cream
ground black pepper to taste
INSTRUCTIONS :
Step 1: Prepare the oven and preheat to 175 degrees C or 350 degrees F.
Step 2: Brush melted butter on the sides and bottom of a 9×13-inch baking dish.
Step 3: Place a large pot on the stove and turn the heat to high.
Step 4: Pour in water and allow it to boil.
Step 5: Add in the chicken and cook for 5 to 10 minutes or until cooked through.
Step 6: In a large mixing bowl, add in the cream of chicken soup, broccoli, 1/2 cup parmesan cheese, mozzarella cheese, Cheddar cheese, sour cream, and pepper. Stir until well combined.
Step 7: Remove the chicken from the pot and drain the excess water. Add into the broccoli mixture. Stir until well mixed.
Step 8: Transfer the mixture into the buttered baking dish and spread evenly.
Step 9: Place inside the preheated oven and bake for 20 minutes and sprinkle the rest of the Parmesan cheese on top. Bake for another 5 minutes or until the cheese is melted completely.
Step 10: Remove from the oven and let it sit at room temperature to cool.
Step 11: Serve and enjoy!