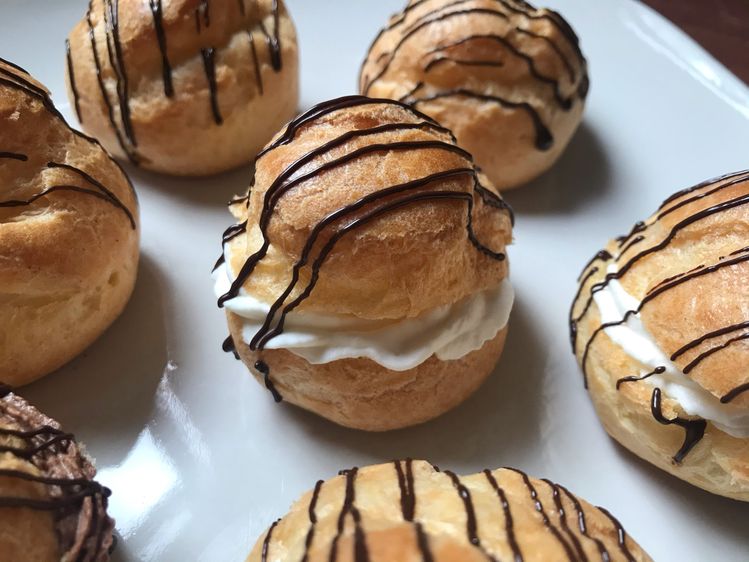 I'm having a love affair with pastry puffs! I swear that with everything, I could eat it! I came up with this as the brain stormed with suggestions about what desserts to prepare for Thanksgiving. This combines together some of my favorite tastes: puff pastry, chocolate glaze, and homemade PASTRY CREAM FILLING! Honestly, what could be more delightful or easier?! It is so fluffy and flaky, it melts in your mouth practically!
INGREDIENTS:
TO MAKE THE CREAM PUFFS:
• 100g Of softened butter at room temperature. (1 stick).
• 1 CUP.Of flour.
• 1 CUP.Of water.
• 1 TEASPOON.Of vanilla extract.
TO MAKE AN EASY PASTRY CREAM FILLING:
• 1 Box.Of instant vanilla-pudding.
• 1 Can. Of heavy cream.
• 1/3 CUP.Of milk.
TO MAKE THE MELTED CHOCOLATE GLAZE:
• 220g of Unsweetened chocolate chips.
• 120g of butter.
• 3 small spoon corn syrup.
Directions
• STEP 1_In a saucepan get to a boil the first four ingredients together, stir continually until ball forms, then remove it from the heat and let it cool. Whisk 4 eggs until the eggs are fluffy.
• STEP 2_Please drop by spoon and with a parchment-lined cookie pan, and bake for 40 min at 300 degrees, then allow to cool.
• STEP 3_Now, cut it in half, and put it in the filling.
• STEP 4_To make the filling: In a large mixing bowl, beat all the PASTRY CREAM FILLING ingredients until creamy, using your electric mixer.
• STEP 5_Melt the butter and chocolate in the corn syrup until smooth. Be sure to let the puffs thicken and cool for a few minutes, then throw the glaze over them.