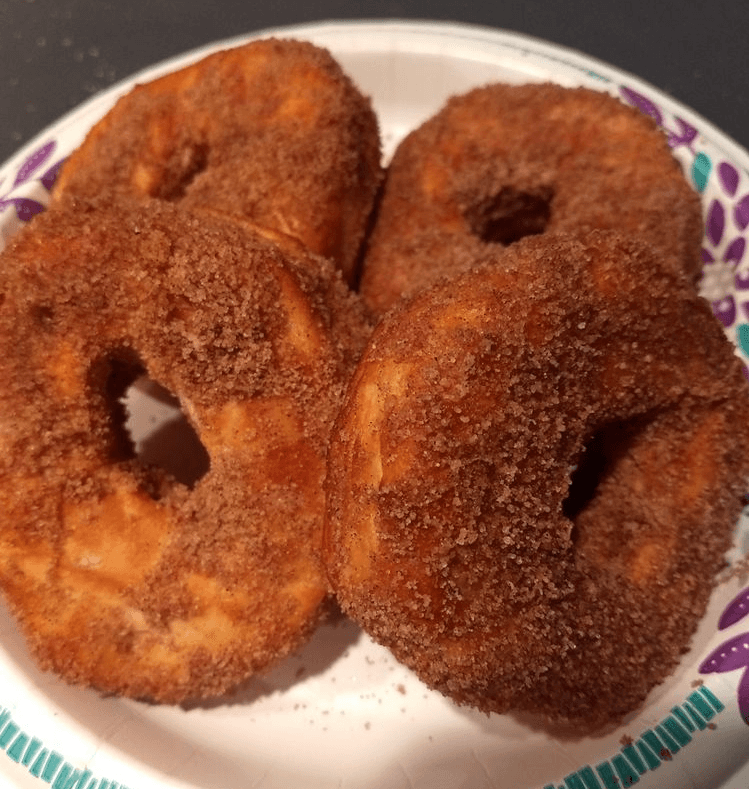 Since I was young, my mother made these for us and when I married, my daughters always wanted these also. Now my grandchildren look forward to making them, helping to cut the holes and dipping them in the sugar. It is delicious served warm.
I made these this morning~ so good! They are best when hot. I coated the holes in cinnamon & sugar, but made a glaze for the donuts. They are SO easy, took me 15 minutes total!
Made these as a kid and make now with my daughters. I make a chocolate glaze also to dip them in.
Cook time: 15 Min  Prep time: 15 Min  Serves: 4
INGREDIENTS
8 oz can buttermilk biscuits
1/2 c granulated sugar
1 tsp ground cinnamon
1 1/2 c cooking oil
INSTRUCTIONS
1. Heat cooking oil in a small skillet
2. In a shallow dish, mix sugar and cinnamon well.
3. Seperate biscuits and cut 1″ hole in the center with a cookie cutter (we use a water bottle lid). Save cut out holes for cooking
4. Drop 3 or 4 biscuits into hot oil and cook until golden brown. Flip them over and cook opposite side. Do the same thing with the holes.
5. Remove from oil and dredge in the sugar mixture and put on a seperate plate to cool.
6. Note: You could also coat with powdered sugar.