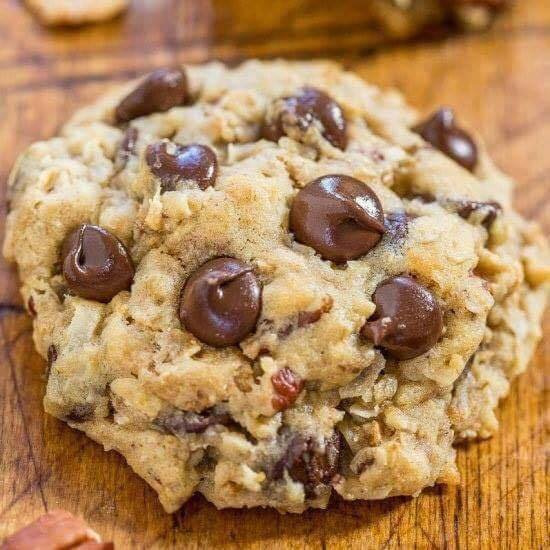 You don't have to be a cowboy or cowgirl to love these cookies. I'm neither and I can never get enough of them.
I am not sure why they are called Cowboy Cookies. Maybe because they are so consistent and full of texture that after eating them, you'll be ready to go to the ranch for a few hours to train.
I've seen many recipes for them over the years, including Laura Bush's, and I've merged several recipes into one for this version.
There are so many textures, flavors and elements in every bite and it all works somehow. They look like an oatmeal and chocolate chip cookie with the addition of grated coconut, which reminds me of the soft and fluffy seven layer magic bar cookies. Oats, coconut and chocolate, it's a perfect blend.
Add a few pecans and Cornflakes reminiscent of Christina Tosi's famous Chocolate Chip Cookies and you have a great bite. The pecans give a firmer crunch while the Cornflakes add a lighter, crispier crunch. The crispness blends perfectly with the flavor of oats and coconut.
I've seen them called "Kitchen Sink Cookies" and for good reason. They contain almost everything but the kitchen sink and are the kind of recipe that will allow you to replace nuts with pecans, raisins with chocolate chips, use Special K's instead of Cornflakes or make adjustments to your pantry ingredients.
Ingredients :
1 cup butter
1 cup of sugar
1 cup conditioned brown sugar
Mix the cream and add 2 eggs.
Instructions :
Add: 1 teaspoon vanilla, 1 teaspoon baking soda, 1/2 teaspoon salt, 1/2 teaspoon baking powder, 2 cups flour and 2 cups oat flakes.
After mixing, add 2 cups of chocolate chips and nuts to taste.
Place with a large spoon on a cookie sheet.
Bake in the oven at 350* 12-15 minutes