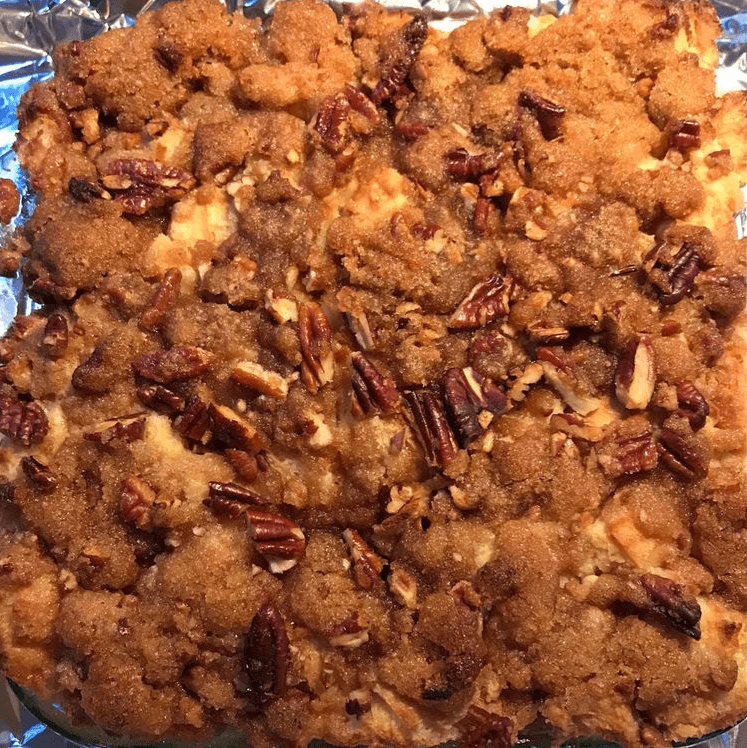 Pecan Bread Pudding is actually a pecan pie without the crust. Instead, the filling is poured over a delicious bread pudding and baked to perfection!
It's pecan pie infused paradise! I've been on the pecan pie theme lately. When I first started, I had intended to make chocolate chip bread pudding, but after I got it all out there, I started thinking about trying to make it taste like pecan pie instead.
Great decision! It was delicious.
Bread pudding is one of my favorite desserts. It's a very simple and economical dessert to make. All bread puddings have basically the same format: dry bread and a custard made with milk, eggs and sugar. You can add any extra ingredients to make your own bread pudding. For the pecan bread pudding, I added butter, brown sugar and pecans to make it look like pecan pie.
Ingredients
16 ounce French day old bread
2 and ½ cup of milk
1 cup half-and-half see notes You can replace whole milk or heavy cream
4 large eggs lightly beaten
1 cup granulated sugar
1 tablespoon of vanilla
1/8 teaspoon of salt
1/2 cup softened butter
1 and ½ cup packaged brown sugar
1 cup chopped pecans
Instructions
Preheat the oven to 350 degrees F.
Cut the bread into cubes and place in a large bowl.
In another bowl, beat the eggs, milk, half and half, sugar, salt and vanilla. Pour over the bread and let stand for 5 to 10 minutes.
In another small bowl, mix with a fork, softened butter, brown sugar and pecans. This mixture will have the consistency of wet sand.
Pour half of the bread mixture into a greased 8×8 inch baking pan. (Yes, an 8×8 inch pan).
Cover with half of the pecan mixture.
Spoon in the remaining bread mixture and cover with the remaining pecan mixture. Press lightly into pan. The pan will be really full.
Cover with the rest of the pecan mixture.
Place the pan on a cookie sheet with a 1-inch rim to catch any mixture that may overflow.
Bake at 350 degrees F for 45 to 55 minutes.
The center will be slightly shaken, but will harden once cooled.
Cool 20 to 30 minutes before serving to hold slices together.
This is a thick bread pudding and I cut it into 16 equal portions. You can of course cut larger slices.