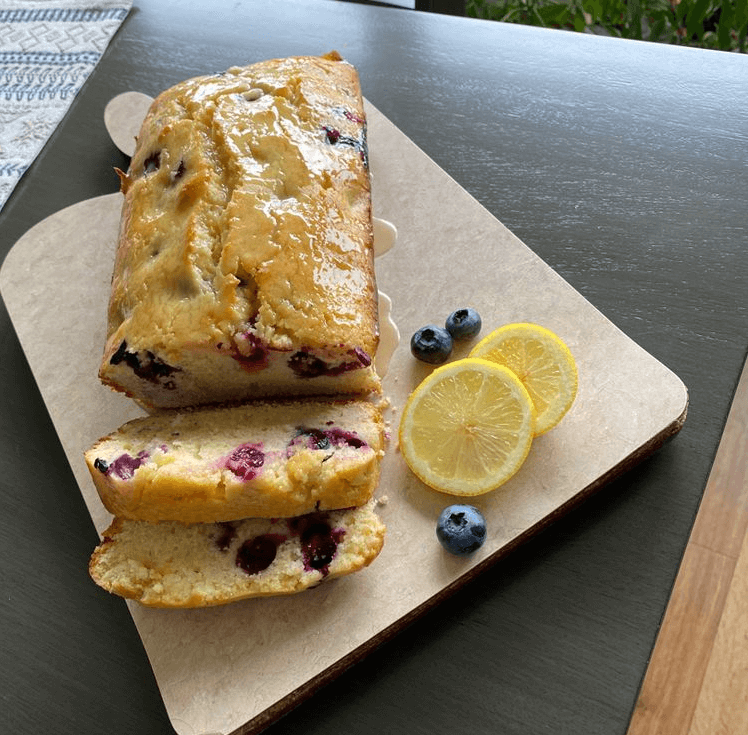 You could even make this recipe into muffins if you want–I love to have muffins in the freezer for easy snacks on the go! But I really think this recipe "shines" best as a loaf! It's so moist and light! And the lemon-blueberry flavors perfectly compliment each other!
A super moist blueberry lemon bread recipe that is easy to make and topped with a delicious lemon glaze!
I have two extremes when it comes to sweeter recipes.  It must either be insanely rich, decadent, and full of chocolate or it must be full of lemon flavor.  Talk about complete opposites, right?  It can make for some tough decisions when I'm trying to decide between the two.
I'm guessing you figured out which one won last time.
There's something simply amazing about combining berries and lemon, particularly blueberries and lemon.  I whipped up a few batches of this bread and gave some to my mother and mother-in-law, they both loved it.  I guarantee you will too!
This bread is so incredibly easy to make too.  Just combined all of the ingredients together, pour it in a loaf pan, and bake it!  I love how each bite of this bread is bursting with fresh blueberries.  The lemon glaze for this recipe is simple to make as well, with just two ingredients.  The glaze is optional, but highly recommended, as it increase the lemon flavor in the bread.
Ingredients:
1/3 cup melted butter
1 cup sugar
3 tablespoons lemon juice
2 eggs
1 1/2 cups all-purpose flour
1 teaspoon baking powder
1 teaspoon salt
1/2 cup milk
2 tablespoons grated lemon zest
1/2 cup chopped walnuts optional
1 cup fresh or frozen blueberries
GLAZE
2 tablespoons lemon juice
1 tablespoon butter melted
1 cup confectioners sugar
Directions
In a mixing bowl, beat together butter, 1 cup sugar, juice and eggs. Combine flour, baking powder and salt; stir into egg mixture alternately with milk. Fold in lemon zest, nuts, and blueberries. Pour batter into greased loaf pan. Bake at 350 for 60 to 70 minutes.