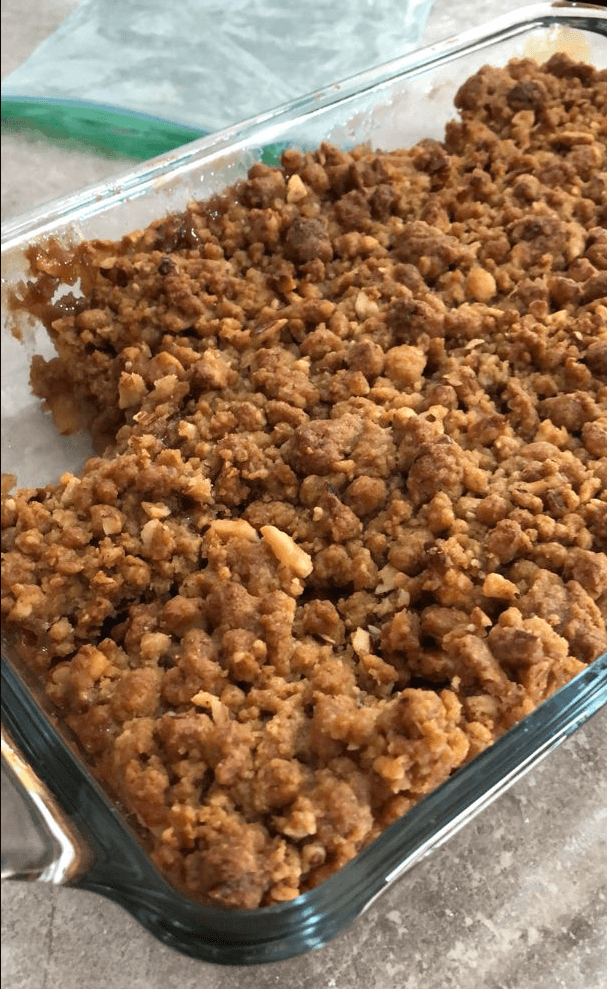 Finally, after all these years, I've come up with a solution for people who can't decide whether to make an apple crumble or coffee cake. This features the best things about both of those recipes. It's like baking a crumb-topped coffee cake on top of another coffee cake!
This is an amazing recipe – moist, apple-y, perfect pick-me-up. I cut the sugar in the batter (not the crumble) by half to lower the sugar content and it was still great!
Excellent recipe, moist and tasty! (Next time I'll half the sugar…just a little sweet for us seniors.) Thanks for sharing this – it really was special for our Mother's Day Brunch.
I used minkfruit as the sweetener in the dry ingredients and Swerve for the nut mix. I needed to add about a quarter cup half/half to thin the batter also. My family gobbled it down. This is a keeper.
INGREDIENTS :
Dry Ingredients:
2 teaspoons unsalted butter
2 cups all-purpose flour
½ teaspoon fine sea salt
1 teaspoon baking powder
¾ teaspoon baking soda
Crumble Mixture:
1 ½ cups finely chopped toasted walnuts
⅓ cup packed light brown sugar
⅓ cup white sugar
¼ teaspoon salt
1 teaspoon ground cinnamon
3 tablespoons unsalted butter, melted
Wet Ingredients:
½ cup unsalted butter, at room temperature
1 cup white sugar
2 large eggs
1 ½ teaspoons vanilla extract
1 cup plain yogurt
2 eaches Honeycrisp apples
INSTRUCTIONS :
Step 1: Prepare the oven and preheat to 175 degrees C or 350 degrees F.
Step 2: Brush melted butter in a 9×12-inch baking dish.
Step 3: In a medium mixing bowl, add in baking powder, flour, baking soda, and salt. Whisk until well mixed then set aside.
Step 4: In another medium mixing bowl, add in the brown sugar, white sugar, walnuts, cinnamon, melted butter, and salt. Stir until the sugar and walnuts are coated with the butter completely.
Step 5: In another medium mixing bowl, add in the sugar and butter. Stir using a spatula until creamy.
Step 6: Add in one egg and whisk for 2 to 3 minutes or until well blended.
Step 7: Add in the second's egg and whisk until well combined.
Step 8: Add in the yogurt and vanilla. Whisk until well mixed with the rest of the ingredients.
Step 9: Transfer the flour mixture into the wet ingredients and whisk until the flour is dissolved completely.
Step 10: Cut the apples into 1/4-inch slices. Add into the batter and mix using a spatula.
Step 11: Pour in the batter into the baking dish and spread it evenly. Sprinkle half of the crumble mixture on top. Spread carefully the remaining batter. Top with the remaining crumb mixture and press into the batter.
Step 12: Place inside the preheated oven and bake for 40 minutes or until a toothpick comes out clean after inserting it in the middle.
Step 13: Remove from the oven and let it sit at room temperature to cool for 30 minutes.
Step 14: Slice, serve, and enjoy!