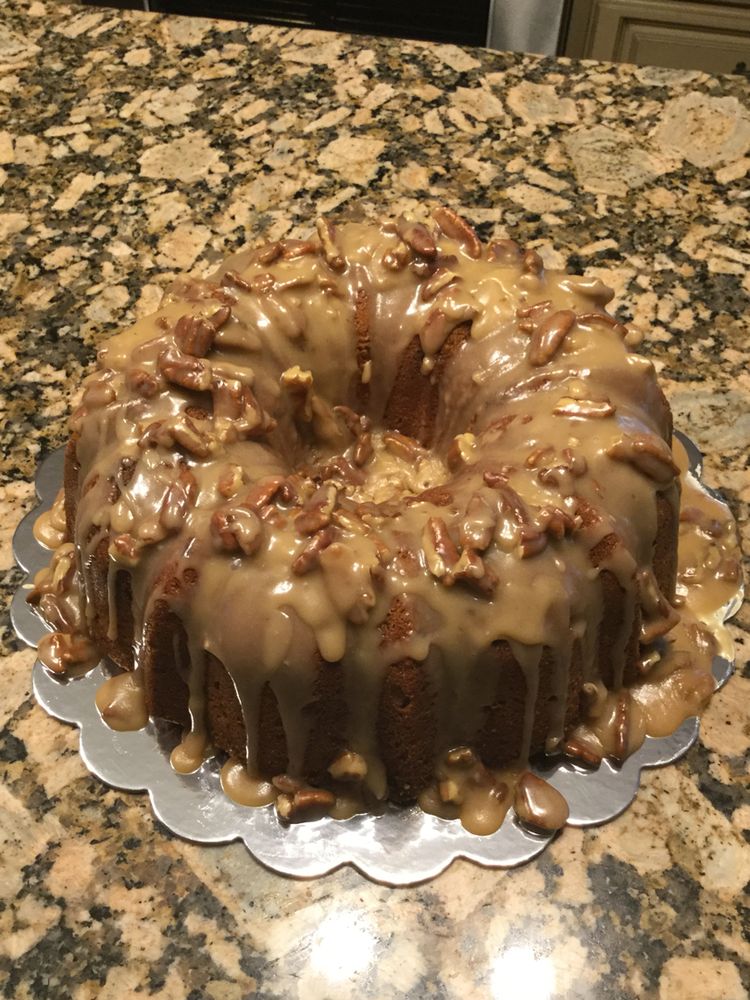 I have such great admiration for people who bake elaborately decorated cakes with beautiful flowers and other frosting and fondant decorations! There are so many talented bakers and bloggers creating gorgeous desserts, and I always say that 'someday' I'll take a cake decorating class to learn how to do it myself!
But – I know myself – and I really don't have the patience (nor the artistic talent) to create such masterpieces! So that's why simple and delicious dessert recipes like this Toffee Pecan Bundt Cake with Caramel Drizzle are more my speed!
This easy cake delivers on so many levels! A moist, sweet brown sugar cake is full of milk chocolate toffee bits and chopped pecans. Then – the cake is covered in a rich, sweet caramel drizzle that is sugary perfection!
INGREDIENTS :
For the Cake
Non-stick cooking spray with flour
3 cups all-purpose flour
1 teaspoon baking powder
½ teaspoon salt
1 ½ cups unsalted butter, softened
2 cups light brown sugar, packed
1 cup granulated sugar
5 large eggs
1 cup whole milk
1 bag (8-ounces) milk chocolate toffee pieces
1 cup pecans, chopped
For the Caramel Drizzle
14 ounces (1 can) sweetened condensed milk
1 cup light brown sugar, packed
2 tablespoons unsalted butter
½ teaspoon vanilla extract
Instructions :
Preheat the oven to 325 degrees F. Spray a 12-cup bundt pan with non-stick cooking spray with flour and set aside.
In a medium bowl, stir together flour, baking powder and salt. Set aside.
In the bowl of a stand mixer, beat the butter until light and creamy. Add both sugars and beat again until fluffy. Add eggs one at a time, mixing until blended. Alternate adding in flour mixture and milk, mixing until just combined, being careful not to over mix.
Stir in toffee chips and pecans by hand, blending well. Spoon the batter into the prepared pan.
Bake for 75-80 minutes or until a toothpick inserted into the center comes out clean.
Allow the cake to cool in the pan for 10 minutes, then invert onto a wire rack to cool completely.
Once the cake is cool, prepare the Caramel Drizzle as follows:
Combine the sweetened condensed milk and brown sugar in a medium, heavy–bottomed saucepan. Over medium heat, bring to a boil, whisking very frequently.
Reduce the heat under the pan and simmer gently for about 8 minutes, whisking constantly.
Remove the pan from the heat and stir in butter and vanilla. Allow the mixture to sit in the pan for about 5 minutes – then drizzle over the cake. (You will want the drizzle to still be fairly hot when you drizzle it over the cake – it does harden a little after it cools.)