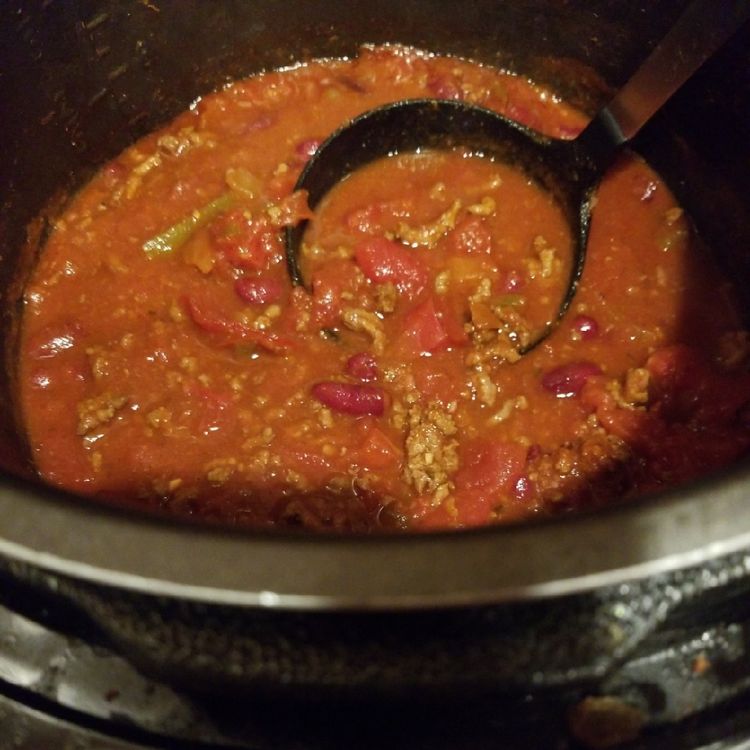 Wendy's Chili copycat made with kidney beans, onions, chilis, bell peppers and tomatoes with a spicy chili powder and cumin spices. The perfect copycat!
Wendy's Chili is a no brainer now that the weather is cooling down in a hurry. This copycat recipe is actually so spot on that when I tested it on an unsuspecting family member who loves it she replied, "If you got Wendy's where is my FROSTY!!"
Sadly, I had not made a Wendy's Frosty for her, but the chili is in fact a very spot-on copycat. Plus I love serving it with my Jalapeno Popper Cornbread Muffins.
Wendy's Chili seems like it would be a tough recipe to make, but honestly the most difficult part is waiting for it to cook low and slow. In fact here are some tips and tricks for making this the PERFECT chili recipe.
Add in a tablespoon of butter at the end of cooking. It helps mellow flavors and provide the best texture. It adds a richness with minimal calories (it is only 1 tablespoon for the whole pot!).
Cook on a "simmer" which is lower than "low" usually. Cooking on a simmer is just the smallest of bubbles.
If you find your chili doesn't look the same as below you may have the heat on too high so too much water has evaporated or on too low and too much water is remaining.
If you're nervous about cooking it uncovered just stir more frequently. You'll be able to feel if any of the chili is sticking to the pot.
You'll Need:
2 pounds of fresh ground beef.
1 quart tomato juice.
1 (29 ounce) can of tomato purée.
1 (15 ounce) can of drained kidney beans.
1 (15 ounce) can of drained pinto beans.
1 chopped medium large onion.
½ cup of diced celery.
¼ cup of diced green bell pepper.
¼ cup of chili powder.
1 tsp of ground cumin.
1 ½ tsps of garlic powder.
1 tsp of salt.
½ tsp of ground black pepper.
½ tsp of dried oregano.
½ tsp of sugar.
⅛ tsp of cayenne pepper.
How to:
Brown the ground beef in a large skillet then drain it of the fat.
In a 6 quart pot, place the beef and all the other ingredients. Simmer covered for 1 to 1 ½ hours stirring every 15 minutes. Or you can cook for 3 to 4 hours in slow cooker on low.