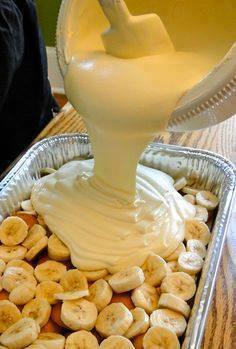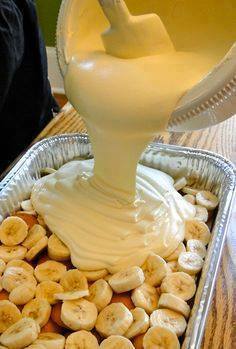 If you love banana pudding like I do, this recipe is a MUST for you to try.  I've made it for housewarming parties, cookouts, work functions, etc. and have never brought home any leftovers.  People have literally grabbed extra cookies and scraped the dish clean. I would be one of those people.  No shame!
The South is steeped in a list of tradition and our recipes are high on that list.  In the past, there was no way would I have used instant pudding mix in my banana pudding. "Instant?? Bless your heart.  It's Grandma Peggy's homemade recipe or nothing!"  But when a friend requested banana pudding a few hours before we were going over for supper, I found Miss Dean's quick recipe, gave it a try and have never gone back! Sorry, Grandma Peggy.  This stuff is like dreamy, creamy, crack with bananas.  It is that good, Y'all.
Ingredients:
 2 bags Pepperidge Farm Chessmen Cookies OR 2 bags Vanilla Wafers
6 to 8 bananas, sliced
2 cups whole milk
1 (5 oz.) box instant French Vanilla pudding
1 (8 oz.) package cream cheese
1 (14 oz.) can sweetened condensed milk
1 (12 oz.) container frozen whipped topping thawed, or equal amount sweetened whipped cream
Directions:
Line the bottom of a 13×9 inch dish with 1 bag of cookies and layer bananas on top.
Bowl 1- Combine the milk and pudding mix and blend well using a handheld electric mixer.
Bowl 2- Combine the cream cheese and condensed milk together and mix until smooth.
Fold the whipped topping into the cream cheese mixture.
Add the cream cheese mixture to the pudding mixture and stir until well blended.
Pour the mixture over the cookies and bananas and cover with the remaining cookies.
Refrigerate until ready to serve!
source : Allrecipes.com