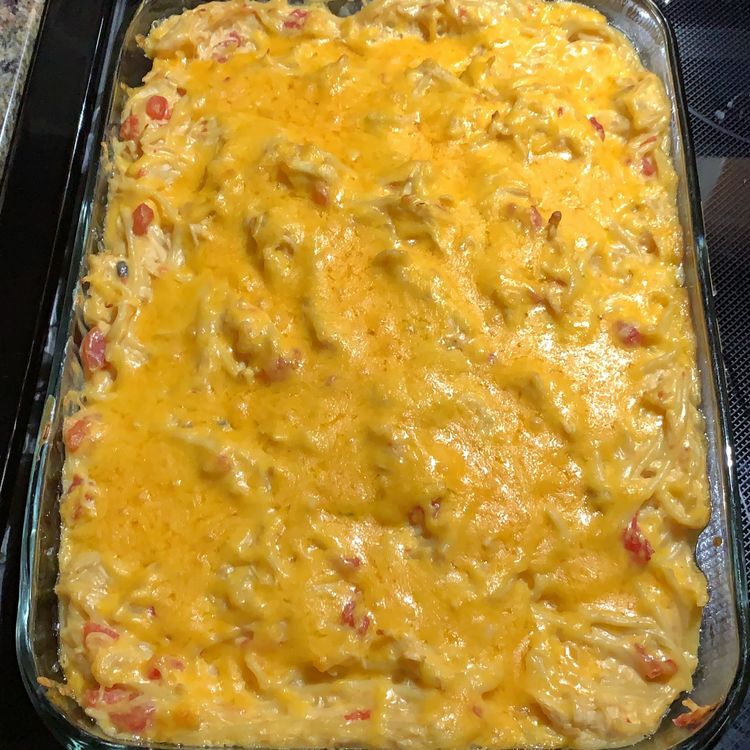 Shredded chicken and spaghetti stirred into a mixture of melted cheese, green onion, tomatoes, red and green chile peppers and creamy mushroom soup. A Classic Chicken Spaghetti with a little bite. This is a good last minute chicken recipe for a family, and my 2-year-old loves to eat this recipe with his fingers. Also, this dish freezes well. Serve with garlic bread, if desired.
This recipe is very good. I did not have cream of mushroom soup on hand so I substituted cream of chicken instead. I also used 2 cups of shredded cheddar cheese in place of the processed cheese.
I wanted to bake this as a casserole, so I cooked the spaghetti to al dente, using the broth from boiling the chicken (3 leg quarters).
I was very happy to rediscover this recipe. My mom used to make this when I was a kid and we called it "Chicken Rotel." This recipe is quick easy and very tasty.
INGREDIENTS :
2 pounds frozen boneless skinless chicken breasts
1 (16-ounce) package spaghetti
1 (10-ounce) can Ro*Tel Tomatoes
2 (10.5-ounce) cans cream of mushroom soup
1 (16-ounce) package Velveeta cheese
4 ounces cream cheese
1 teaspoon garlic powder
1 teaspoon onion powder
1 cup shredded sharp cheddar cheese
INSTRUCTIONS :
Place the chicken in a large pot and just cover with water. Cook over medium-low heat until cooked through. Try not to boil the chicken as it can make it tough. Allow to cool enough to handle, then shred using two forks.
Preheat the oven to 350°F. Lightly grease a 13×9-inch baking dish with nonstick cooking spray.
Cook the pasta according to the package directions. Drain and set aside.
In a large pot, combine the Ro*tel with the juice, undiluted cream of mushroom soup, Velveeta cheese, and cream cheese. Heat over low heat, stirring constantly, until the cheeses have melted. Add the garlic powder and onion powder. Add the shredded chicken and cooked spaghetti. Mix well. Pour the mixture into the prepared dish and sprinkle with the shredded cheddar cheese.
Bake for 20 to 30 minutes or until heated through and the cheese has melted.