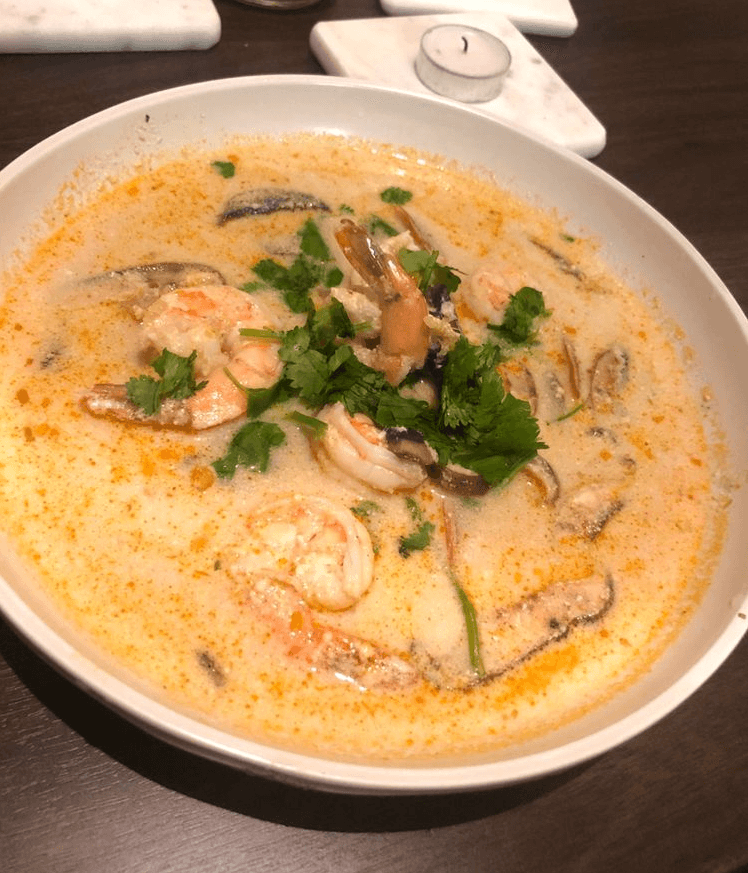 An amazing Thai coconut soup, quick and easy to prepare, made from scraps, with ingredients that are easy to find! Coconut soup broth is a must have, as spicy or mild as you like.
Loaded with noodles, shrimp and various fillings, this coconut curry soup lends itself to all kinds of variations. Try adding tofu and other vegetables, fish or chicken. So many possibilities!
Thai coconut curry soup – easy, from scratch!
This soup is for whenever you feel like a Thai curry but don't have the time or ingredients to make a complete Thai red curry from scratch.
This is not a genuine Thai dish, as far as I know. But as regular readers know, I'm a bit picky when it comes to fake Asian dishes. It doesn't have to be strictly authentic, but it has to be in the spirit of the cuisine in question.
So even if it's not an authentic Thai dish, it's made with ingredients used in Thai cuisine, and it really tastes like a Thai coconut curry in the form of a soup. As a cross between Laksa soup and Tom Yum soup (coming soon!).
It's much better than anything you can make using the standard Thai curry pastes you find in everyday grocery stores – even if you brighten them up with fresh flavours. And you'll be amazed at how easy it is to prepare.
Ingredients
1 tablespoon of vegetable oil
10 shrimp, peeled and deveined (note 1)
2 cloves of garlic, finely grated
2 tsp. ginger, finely grated
1 lemongrass, peeled, finely grated (note 2)
1 tablespoon brown sugar
1 1/2 tablespoons of fish sauce (or soy sauce)
2 tsp curry powder (Note 3)
1 teaspoon coriander powder
2 tsp. chili and garlic paste or other chili paste, to adjust to taste (note 4)
400 g/14oz of coconut milk (Note 5)
2 cups /500ml of chicken (or vegetable) broth
2 teaspoons lime zest (1 lime)
200 g / 7 oz fresh egg noodles, prepared per package (other noodles Note 6)
A big handful of bean sprouts
TOPPINGS / TO SERVE :
Lime wedges
Fresh coriander/cilanthe leaves
Sliced red onion (or sliced green onion), fried Asian shallots (note 7), sliced red pepper, more chili paste (optional)
Instructions
Heat the oil in a large saucepan over high heat. Add the shrimp and brown them on both sides (it is not necessary to cook them inside). Remove to a plate.
Lower the heat to medium. If the pan seems dry, add a little extra oil.
Add garlic, ginger and lemongrass. Sauté for 20 seconds until the garlic is golden.
Add sugar and fish sauce. Stir and cook for 30 seconds – it should look like caramel.
Add the chilli paste, coriander and curry powder. Stir and cook for 30 seconds.
Add the chicken stock and coconut milk. Stir and bring to a boil.
Simmer for 2 minutes, then add the lime zest and put the shrimp back into the stock.
Cook for 2 minutes just to reheat and finish cooking the shrimp.
SERVICE :
Place the noodles in a bowl. Ladle over the soup.
Garnish with bean sprouts and cilantro, plus toppings of your choice (chilli pepper, red onion, Asian fried shallots).
Squeeze lime juice to taste. Gargle and be happy!