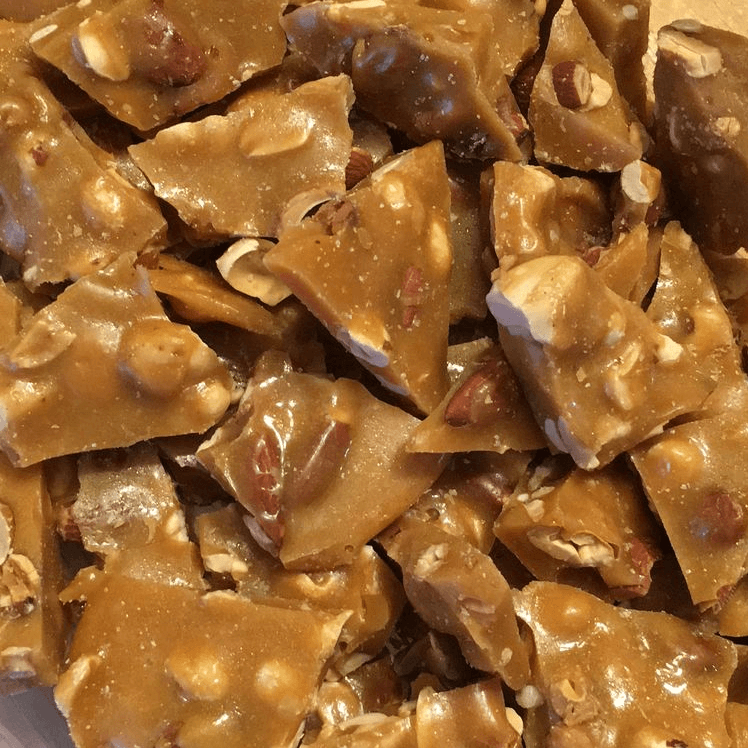 Let's talk about candy. Specifically, nut brittle.
In my house, homemade candy is considered both a luxury and an enormous pain in the butt. For this reason, I tend to stick with baked goods around the holidays, leaving candy making to my more adventurous friends… with one exception.
I'm apprehensive to share this recipe, knowing full well that once I do, the jig is up, and my best holiday candy trick is out of the bag. But this is hands down the best nut brittle recipe you'll ever find, and it seems wrong to keep it a secret any longer. Before we go any further, however, I have a few confessions to make:
1) The recipe isn't mine – it belongs to my dear friend and former home economics teacher, Mrs. B. She hasn't always gotten credit for it when gushing friends are lavishing my candy-making skills with praise (sorry, Mrs. B…)
2) This recipe is incredibly easy. You don't need a candy thermometer. All you need is… a microwave
A microwave??
I know. I can feel your skepticism from here. But hold on! I promise if you trust me on this one, you're in for the best nut brittle you've ever had in your life. It will also be the easiest, and no one ever has to know your secret.
Before we get to the recipe, I want to take a moment to recognize the incredible woman who taught me this holiday favorite. Mrs. B (a.k.a Susan Bushnell) is a former Rochester, Vermont High School teacher whom I met when I was 14 years old.
Ingredients
2 cups sugar
1/2 cup water
1 stick unsalted butter
1/3 cup light corn syrup
1/2 teaspoon baking soda
12 ounces roasted salted peanuts, cashews, pistachios and/or pecans
Fleur de sel or crushed Maldon sea salt
How to Make It
Step
In a large saucepan, combine the sugar, water, butter and corn syrup and bring to a boil. Cook over moderately high heat, stirring occasionally, until the caramel is light brown and registers 300° on a candy thermometer, 10 minutes. Remove from the heat and carefully stir in the baking soda. The mixture will bubble. Stir in the nuts, then immediately scrape the brittle onto a large rimmed, nonstick baking sheet. Using the back of a large spoon (oil it lightly if it sticks), spread the brittle into a thin, even layer. Sprinkle with salt. Let cool completely, about 30 minutes. Break the brittle into large shards.