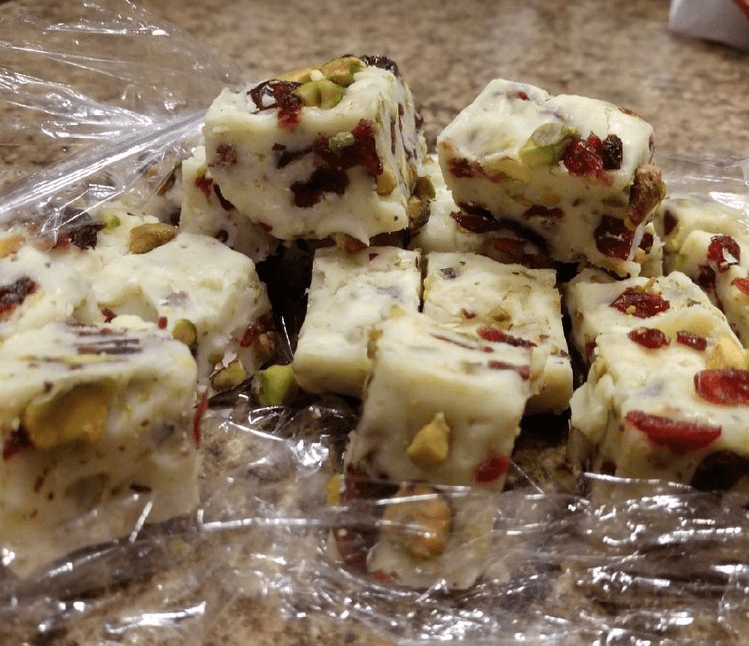 "Pretty Pretty Holiday candies". There is nothing like a plate full of homemade goodies. Here's a fudge that is sure to Please. Not only does this have eye appeal, but tasty as well. Guaranteed not to last very long.
-This recipe did not firm up for me! Don't know what I did wrong, I followed the directions which were simple and easy. I even drained and blotted the cherries dry, but it was still soft and not able to cut into pieces.
-I made this fudge yesterday. I couldn't believe how easy it was and it tastes wonderful! It's just so flavorful and creamy. I used Ghirardelli white chocolate coz I had a couple boxes and want to get it used up. I think it's one of the prettiest things I've ever made for Christmas (food wise). Liked it so much that I'm making another batch today. I know it's been awhile, but thanks so much for posting this recipe.
-As I was browse your zite & saw that you were from Savannah, Ga., as well as for myself, I was born in Old Telfair Hospital in Savannah, Ga. By going through all of your cooking & baking sure has made my mouth watering. LOL Thank you for sharing as I am looking forward making few things for Thanksgiving and Christmas. Hope you & your Family have a Happy Holidays!
Prep time: 20 Min Serves: 64 pieces
Ingredients
1 pkg. 14oz. white choc chips
1 14 oz condensed milk ( not evaporated)
1 1/2 tsp pure vanilla extract
pinch salt
1/2 C each red and green candied cherries ( dice or cut small)
Directions
1. Chop cherries into small pieces Line & butter lightly or pam sprayed 8 X 8 pan with foil leaving enough over edges for handle to use later.
2. Melt Chips in Double boiler with the condensed milk,vanilla, & salt, on med low heat. Stir till melted and smooth.
3. Remove from heat; Stir in cherries, till evenly distributed.
4. pour into foil lines pan. spread evenly. Chill in refer 1 1/2 hrs. (you cannot over chill)
5. Remove from pan by lifting with the handles on the foil. Cut into 1″ pieces, CUT 8X8= 64 pieces. Time to celebrate; "MERRY CHRISTMAS", "HAPPY HOLIDAYS", "SEASONS GREETINGS" "JOY TO THE WORLD", & to one and all.. . . Enjoy!
Last Step: Don't forget to share!