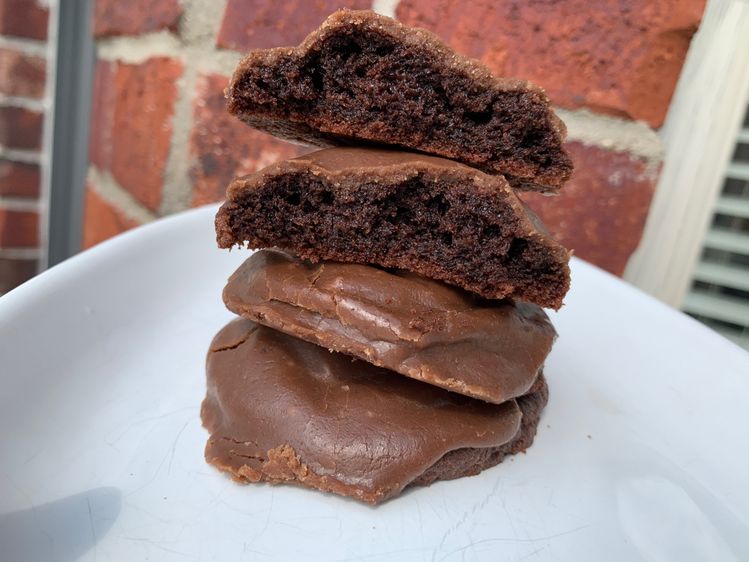 This is the cookie version of the fudgy, chocolaty goodness that is a Texas sheet cake. Make sure to frost these cookies while both the cookies, and the frosting, are still warm–because this frosting sets up quickly! Feel free to top these with either chopped walnuts or pecans, if desired. Store in airtight containers.
Great cookies. Fairly easy to make, albeit a touch finicky. The recipe submitter was correct in stating that even 1 minute difference in bake time means that the cookies will be dry vs moist. It takes a little bit of trial and error, depending on exactly the size of your cookies to get the baking time right. The frosting worked great too. There was enough to completely cover the cookies, and it was nice and chocolaty. It set up perfectly. I would definitely make these again, as I found them to be very delicious, and everyone at work ate them up in 15 minutes.
INGREDIENTS :
Cookies:
1/4 cup semisweet chocolate chips (such as Ghiradelli® 60% Cacao)
1 1/8 cups all-purpose flour
3 tablespoons unsweetened baking cocoa (such as Ghirardelli®)
1 teaspoon baking powder
1 teaspoon ground cinnamon (optional)
1/4 teaspoon baking soda
1/2 teaspoon salt
1/2 cup unsalted butter, softened
1/3 cup white sugar
1 large egg, room temperature
1 1/2 teaspoons vanilla extract
1/4 cup buttermilk, at room temperature
Chocolate Frosting:
5 tablespoons unsalted butter
5 tablespoons heavy cream
3 tablespoons unsweetened baking cocoa (such as Ghirardelli®)
1 teaspoon vanilla extract
1/4 teaspoon salt
2 cups powdered sugar
INSTRUCTIONS :
Step 1: Simmer the chocolate chips on top of a double broiler.
Step 2: Stir and scrape the sides using a spatula to avoid burning. Heat for i5 minutes or until the chocolate is melted completely. Allow it to cool.
Step 3: Prepare the oven and preheat to 175 degrees C or 350 degrees F.
Step 4: In a medium mixing bowl, add in the cocoa powder, flour, cinnamon, baking soda, baking powder, and salt. Whisk until well mixed.
Step 5: In another mixing bowl, add in the butter and sugar. Beat using an electric mixer until well mixed. Add in the vanilla extract and eggs then beat until creamy.
Step 6: Transfer the melted chocolate into the egg mixture and stir until well blended.
Step 7: Transfer in 1/2 of the dry ingredients into the egg and chocolate mixture then stir until well combined. Add in the buttermilk and the rest of the dry ingredients. Stir until well combined.
Step 8: Scoop the mixture and drop them into the baking sheets. Make sure to leave 1 1/2-inches space on each cookie.
Step 9: Place inside the preheated oven and bake for 8 to 10 minutes or until cooked through.
Step 10: Remove from the oven and let it sit on a wire rack to cool at room temperature.
Step 11: In a saucepan, add in the butter, vanilla extract, heavy cream, salt, and cocoa powder. Turn the heat to low and cook until the butter is melted completely. Add in 1 cup of sugar at a time and whisk. Whisk for 1 to 2 minutes or until the frosting is smooth.
Step 12: Remove from the heat and spread 1 to 2 tablespoons on top of the cookies.
Step 13: Serve warm and enjoy!