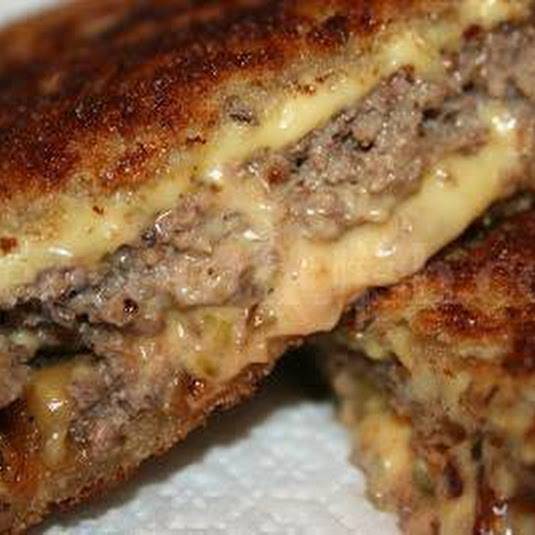 These are what crab cakes are supposed to be like. They are basically a fried lump of crabmeat, held together with a minimum of filler. Delicious!
Your searching for the perfect recipe is over! This is crabmeat held together with an egg and crackers. Serve with tartar sauce and enjoy!
I have searched and to make a long story short……these are great, Chef John. Just what I was looking for in a crab cake. One of the best. Thank you so much. Making these for a party.
Call me crazy but my husband and I are cheapskates and decided to use this recipe with canned tuna instead of crab. It was STILL DELICIOUS! I used 2 cans (4 oz.) since the tuna is pretty condensed in the can.
Ingredients :
1½ pounds ground beef
2 teaspoons Worcestershire sauce
1 teaspoon kosher salt
½ teaspoon ground black pepper
12 slices sourdough bread
½ cup Secret Sauce
3 medium Vidalia onions, thinly sliced
6 slices Cheddar cheese
8 tablespoons unsalted butter
Secret Sauce:
¼ cup Dijon mustard
¼ cup mayonnaise
1 tablespoon barbecue sauce
½ teaspoon hot sauce
In a small bowl, stir together mustard, mayonnaise, barbecue sauce, and hot sauce. Store, covered, in refrigerator up to 3 days
Directions :
In a large bowl, combine ground beef, Worcestershire, salt, and pepper. Shape ground beef into 6 oval patties.
In a medium cast-iron skillet, melt 2 tablespoons butter over medium heat. Add onion. Cook, stirring occasionally, until onion is soft and golden brown, approximately 35 minutes.
In a large cast-iron skillet, cook patties over medium-high heat until browned and cooked through, approximately 2 minutes per side. Remove skillet from heat. Remove patties from skillet; wipe out skillet.
Layer 1 bread slice with 1 tablespoon Secret Sauce, 2 to 3 tablespoons caramelized onions, 1 slice cheese, 1 patty, and another 1 tablespoon Secret Sauce. Top with another bread slice. Repeat with remaining bread, Secret Sauce, caramelized onions, cheese, and patties.
Heat skillet over medium-high heat. Melt 2 tablespoons butter in skillet. Working in batches, cook sandwiches, flipping once, until golden brown and heated through, approximately 3 minutes per side. Add remaining butter to skillet as needed.