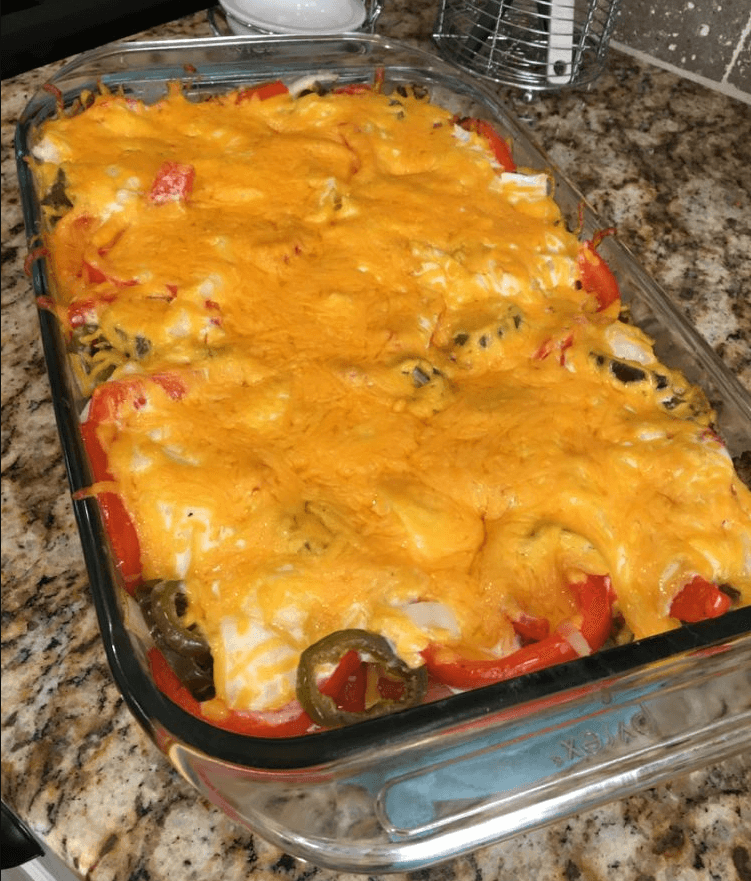 John Wayne casserole is cozy comfort food at its best. You're going to love the Southwestern flavor of this hearty family classic. This is one of my favorite easy ground beef recipes!
COOKING METHOD
First, preheat your oven to 325 degrees F. Lightly spray a 9×13-inch bakingdish with non-stick cooking spray.
Next, in a 12-inch skillet, brown the ground beef until thoroughly cooked, then drain and return to the skillet.  Add ¾ cup water, the taco seasoning packet and bring to a boil. Add the onion and the peppers. Turn down the heat and simmer for three to five minutes, or until the onions and peppers begin to soften. Set aside.
In a small bowl mix together the biscuit mix and ⅔ cup water to make a soft dough. Now, press the dough into the bottom and up the sides about ½ inch in the prepared baking dish. The dough is sticky, so I used parchment paper to press it out on the bottom. Because of this, I also used a spatula to bring it up the sides. John Wayne casserole is all about layers, so, get ready to create your dish!
Now you'll want to use a small bowl to mix together the mayonnaise, the sour cream, and half the cheese. Set aside.
Spread the beef mixture evenly over the biscuit layer. Evenly layer the sliced tomatoes over the beef mixture. Evenly layer the green chilies over the tomatoes. Evenly spread the sour cream mixture over the green chilies.
Finally, top with remaining cheese. Bake your John Wayne casserole for 30 to 35 minutes or until edges are lightly browned.
For Ingredients And Complete Cooking Instructions Please Head On Over To Next Page Or Open button (>) and don't forget to SHARE with your Facebook friends