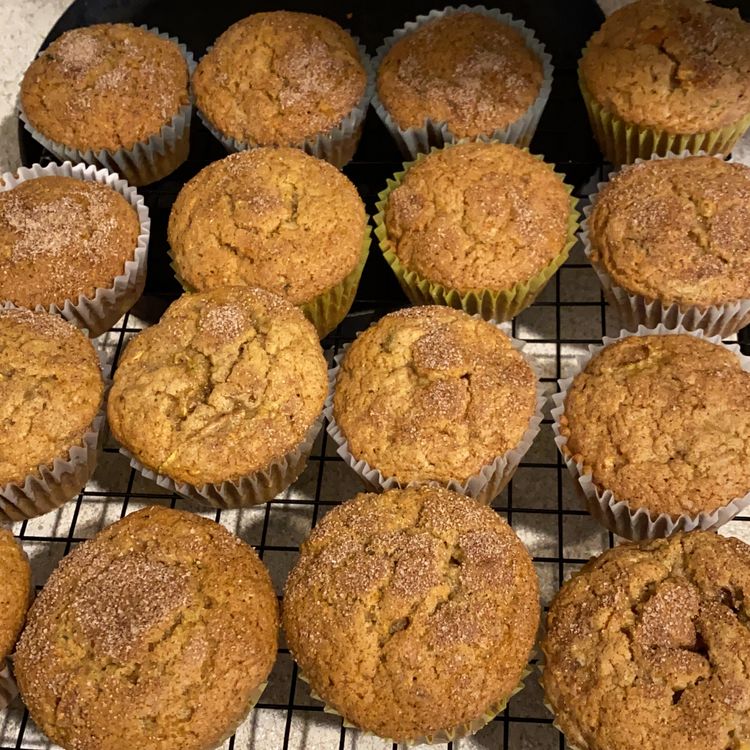 A moist, dense and delicious snack. Super easy! I had apples and zucchini that were just begging to be turned into something wonderful!
Loved it! Its an awesome twist on zucchinni bread! The apples and cinnamon really did the trick. This is a tasty and healthy subsitution for cupcake at family gatherings, office treats, and after dinner desserts!
Omg! Amazing! I have a ton of zucchini from my garden and decided to go with this recipe because it also has apples. I tripled the recipe so I can individually freeze them for the kids to have a quick and healthy breakfast.
I will keep this recipe as they were so good! Very moist and not too sweet. I have 10 lbs of raisins to use up so I put raisins in them and that's the only change I made. We loved these!
This is an awesome recipe!! Even my super picky 3 year old son ate these! I followed the recipe exactly and it turned out very yummy and really moist.
INGREDIENTS :
cooking spray
1 ¼ cups white sugar
⅔ cup oil
3 large eggs eggs
1 tablespoon vanilla extract
2 ¼ cups all-purpose flour
1 ½ tablespoons ground cinnamon, or more to taste
¾ teaspoon baking soda
¾ teaspoon baking powder
2 cups shredded zucchini
1 cup shredded apple
INSTRUCTIONS :
Step 1: Preheat oven to 350 degrees F (175 degrees C). Spray 24 muffin cups with cooking spray or line with paper liners.
Step 2: Whisk sugar, oil, eggs, and vanilla extract together in a bowl until smooth. Stir flour, cinnamon, baking soda, and baking powder into sugar mixture just until batter is combined. Fold zucchini and apple into batter and spoon into the prepared muffin cups.
Step 3: Bake in the preheated oven until until muffins spring back after pressing the top, about 25 minutes.