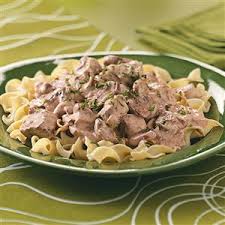 INGREDIENTS
2 pounds beef top sirloin steak, cut into thin strips
3 tablespoons olive oil
1 cup water
1 envelope (1-1/2 ounces) beef Stroganoff seasoning for the slow cooker
1 pound sliced baby portobello mushrooms
1 small onion, chopped
3 tablespoons butter
1/4 cup port wine or beef broth
2 teaspoons ground mustard
1 teaspoon sugar
1-1/2 cups (12 ounces) sour cream
Hot cooked egg noodles
Minced fresh parsley, optional
DIRECTIONS
In a large skillet, brown meat in oil. Add water and seasoning mix, stirring to loosen browned bits from pan. Transfer meat and drippings to a 3-qt. slow cooker.
In the same skillet, saute mushrooms and onion in butter until tender. Combine the wine, mustard and sugar; stir into the mushroom mixture. Add to slow cooker; stir to combine.
Cover and cook on low for 6-8 hours or until meat is tender. Stir in sour cream. Serve with noodles.