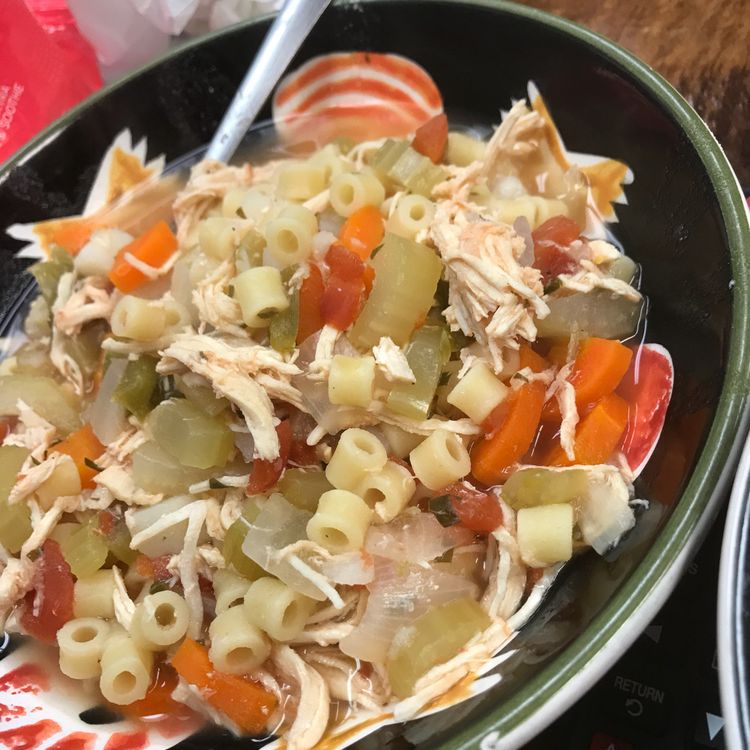 When you don't have time to make your soup totally from scratch, this is a very easy, very good substitute.
This is so easy to make and so good! I cook the chicken breasts in the broth to make the broth a bit richer, then build the soup from there.
My friend told me last week that I needed to check out this web site. So I did and join the same day. Today my daughter was sick when she got up. I got on the web site to find a chicken soup recipe and found a lot of them.
This was the first homemade chicken noodle soup I ever made. It is VERY GOOD! I was expecting something different than the way it turned out but it is delicious all the same.
Excellent chicken noodle soup recipe. Very easy and has a homemade taste. I did not cook the chicken first. I simmered it in the broth with the vegetables for more flavor. Used frozen egg noodles and added garlic.
Ingredients :
3-4 lbs. boneless skinless chicken breasts
1 large yellow onion, diced finely
4 stalks celery, diced finely
2 medium carrots, diced finely
2 red bell peppers, chopped
2 large white potatoes, skin removed and diced
1 can diced tomatoes
1/4 cup chopped fresh parsley
4 cloves garlic, minced
1 tbsp. sea salt
1 tsp. ground black pepper
8 oz. ditalini pasta
Instructions :
Combine chicken breasts, vegetables, diced tomatoes, about 8 cups of water (or just enough to cover everything by about an inch), chopped parsley, garlic, salt, and pepper in a slow cooker.
Cover and cook on LOW for 4-6 hours, until chicken is fully cooked.
Remove chicken breasts from the slow cooker and shred.
Gently mash the vegetables in the soup about 3-4 times.
Prepare ditalini pasta according to package instructions and drain.
Add shredded chicken and cooked pasta to the slow cooker and stir.
ENJOY!