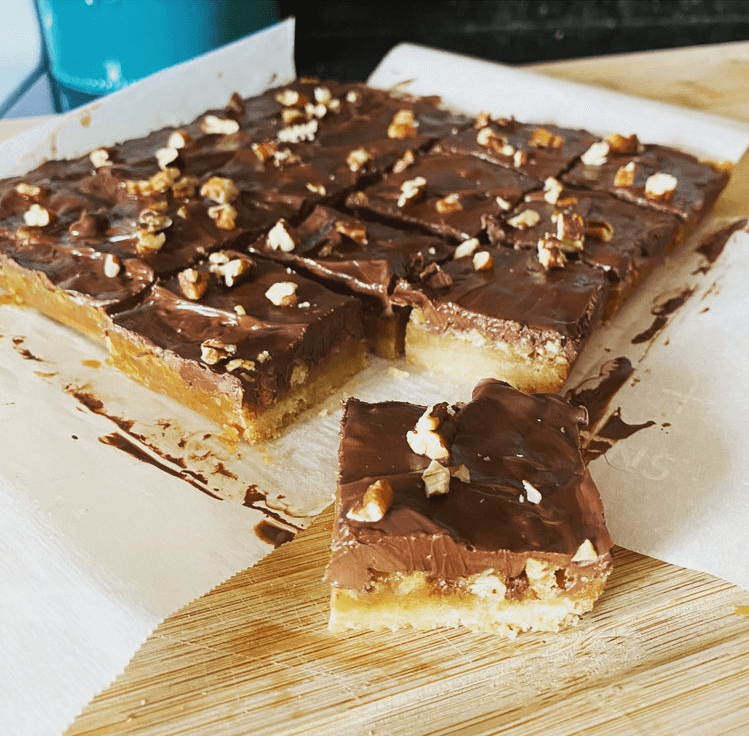 Caramel – Pecans – Pretzels – Chocolate = YES please! This no-bake cookie recipe, pecan and caramel pretzel bars are perfect any time of the year! They're easy to make and one batch is all it takes to enjoy and share! They are a MUST to add to your holiday baking list!
I don't know about you, but I've never met a non-baked caramel and pecan treat that I didn't absolutely love. And let me tell you, they are so delicious! Don't get me wrong, I love baking cakes and especially for the holidays. But when I can make it simple and bake a batch of these caramel and pecan pretzels in about 15 minutes, it's a win-win situation for everyone!
INGREDIENTS
Cooking spray
2 1/4 c. semi-sweet chocolate chips
1 bag (16 oz) ROLD GOLD® Recipe No.™ 5 artificially flavoured salted butter pretzels, lightly crushed
1 1/2 c. chopped pecans
2 bags of soft toffees, unwrapped
1/4 c. heavy cream
1 1/2 teaspoons of vegetable oil
Scaly sea salt
MANAGEMENT
Grease a 9 by 13 inch baking dish with cooking spray. Line the baking dish with parchment paper, leaving an excess of 2 inches on all sides.
In a medium microwaveable bowl, melt chocolate chips in the microwave for about 2 minutes 30 seconds. Stir until chocolate is smooth.
Pour a cup of melted chocolate into the prepared baking dish and spread in an even layer with a spatula.
Set aside 1 cup of pretzels. Spread the pecans evenly over the top of the melted chocolate in the baking dish, pressing them gently into the chocolate. Pour the pretzels evenly over the top of the pecans.
In another medium microwaveable bowl, mix the caramel and heavy cream and microwave for about 3 minutes. Stir until smooth.
Pour the caramel evenly over the top of the pretzels and chocolate in the baking dish. Sprinkle the reserved pretzels 1 cup on top and gently press them into the caramel.
Mix the oil in the reserved cup of melted chocolate ¼ and sprinkle the bars in the baking dish.
Refrigerate until chocolate is thoroughly cooled and set, about 2 hours. Cut into bars, sprinkle with sea salt and serve cold.