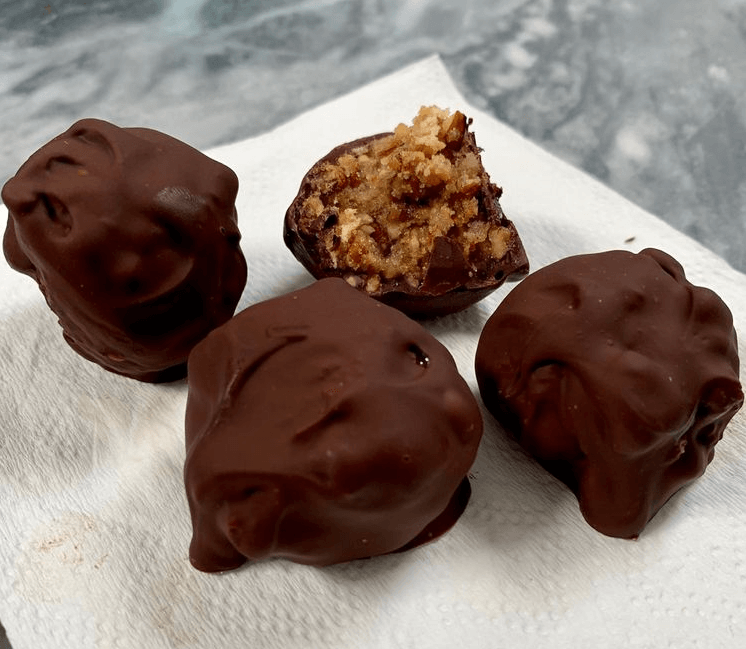 The most delicious part of a pecan pie with a little kick! I've made them for Thanksgiving and several holidays. They were a huge success with everyone. Especially for my healthy "portion controlled" friends! They appreciated the fact that they could have a scoop of pie instead of being served a piece of pie and eating only a small portion. Many people asked for an alcohol-free version: try the almond extract if you don't like the taste of alcohol. You can also use an alcohol-free rum. Add a little water to get an equal amount of liquid. Vanilla wafers can be used as a substitute for graham crackers.
-For all those who are confused about alcohol and measuring substitutions, I just made them and they are EXTRAORDINARY! You need 1/4 C of rum, or 4 T. I divided the dough with the dry ingredients, vanilla and syrup added. The 3/4 went in one bowl, the 1/4 in another. Then I put 3 T of rum in the big bowl (3/4 of the liquid needed), mixed it and formed the balls to freeze them. I put 4-5 drops of rum flavor combined with enough water to make 1 T of total liquid, and added it to the small bowl (1/4 of the required liquid). Then, to keep it simple, I soaked the non-alcoholic ones in white bark and the rums in chocolate bark so that they could be distinguished. I dropped some cooking salt on some of them, and the plate is beautiful! Unfortunately, one of them didn't fit on the plate, so I ate it. Oh yes. Perfect!
-It was surprisingly easy and fun to do, and the flavor is OUT OF THIS WORLD! Plus, I had enough left over after making both versions, with and without alcohol, to make almond bark and mint bark. Be careful not to make too big balls, and chop the nuts very finely so that they mix well. The trick to put water on your hands is very useful. Incredible recipe! A real keeper.
-They are incredibly delicious and so easy to make. I have a few suggestions for you: After mixing all the ingredients, set them aside for about half an hour so that the crumbs absorb the liquids and the mixture sticks better. I didn't use the chocolate sauce and just sprinkled them with powdered sugar and a little bit of mixed cocoa. Best advice: use oven mitts to roll the balls. No sticking!
Serves: 24 balls
Ingredients
2 1/2 c pecans, toasted and chopped
1 c graham crackers, crushed (vanilla wafers, Oreos may be undersized if you don't like graham crackers)
1 c brown sugar, well packed
1/2 teaspoon of salt (if you can't manage the sodium, don't use it!)
2 tablespoons maple syrup
1/4 c of bourbon, brandy or spicy rum. non-alcoholic version: use almond extract, rum extract or any other extract that may suit your taste. add a little water/juice to equalize the amount of liquid.
1 teaspoon vanilla
7 oz of dark chocolate bark. If you prefer white chocolate… go ahead!
1 teaspoon coarse sea salt (optional)
Itinerary
1. Mix the first four ingredients in a large bowl.
2. Add the maple syrup, bourbon and vanilla.
3. Use your hands to make sure all ingredients are well blended. The almond extract can be added as an undercoat for the alcohol-free version. Add water to obtain an equal amount of liquid. You can also try the alcohol-free rum flavor.
4. Form into balls by taking a tablespoon-sized amount of mixture.
5. Roll in your hands to form balls.
6. Place the balls on a cookie sheet lined with parchment paper. Place cookie sheet in the freezer for 2 hours. Tip: Once all the balls are made, roll the balls again with hands slightly moistened with water. This will make the balls smooth before dipping them in chocolate.
7. Melt the chocolate bark in a double boiler or microwave following the instructions on the package.
8. Dip the frozen balls into the chocolate.
Pecan Pie Balls
9. Then place on the parchment lined cookie sheet.
10. Optional: Sprinkle a few grains of coarse sea salt over the balls before the chocolate sets.
11. These freeze well. Take them out of the freezer and let them rest for 15 minutes. They also freeze well!
Last step: Don't forget to share!