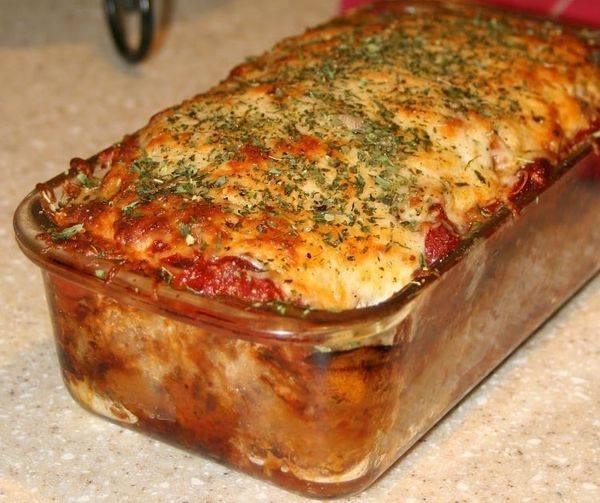 "This meatloaf is easy to make even for a beginner. It tastes like a giant meatball and is really delicious. My whole family, including my picky eater kids, loved it the first time I made it and it has been requested many times since. I usually make mashed potatoes, a veggie and hot rolls to go with it."
MAde this for the family for the first time last year and it was a hit with the adults AND children! Plus it was my very first meatloaf, and I rather enjoyed it 🙂
Meatloaf is something I haven't had since I was younger, but have been really craving. My mother used to make it with Parmesan cheese and I wanted to recreate it for the blog. I think this is as close as I'm going to get!
Ingredients
Add to Shopping List
1 pound ground pork
1 pound ground beef
2 large eggs
1/4 cup breadcrumbs
1/2 teaspoon dried basil
1/2 teaspoon dried thyme
1/2 teaspoon dried oregano
1 to 2 garlic cloves, finely minced
1 small yellow onion (grated)
1/2 teaspoon salt
1/4 teaspoon ground black pepper
1/2 cup grated Parmesan cheese
1/2 cup pasta sauce (marinara sauce, homemade, meatless)
1/2 cup shredded cheese (Italian cheese blend)
Step 1
Preheat oven to 350 degrees. Lightly grease a loaf pan (I use glass bread loaf pan) with cooking spray, set aside.
Step 2
In a large bowl, combine the ground pork and beef, eggs, breadcrumbs, thyme, oregano, basil, garlic, onion, salt, pepper and Parmesan cheese. Try not over handle the mixture, otherwise it will get tough.
Step 3
Place the mixture in the greased loaf pan, and form into a loaf. Top the meatloaf with pasta sauce.
Step 4
Place filled loaf pan on a baking sheet, and bake for 1 hour.
Step 5
Remove the meatloaf from the oven and drain any grease from the meats at this time.
Step 6
Sprinkle the top with the remaining shredded cheese.
Step 7
Place the meatloaf back in the oven, and bake until the cheese is melted.
Step 8
Remove the meatloaf from the oven, and let sit for 5-10 minutes before slicing.