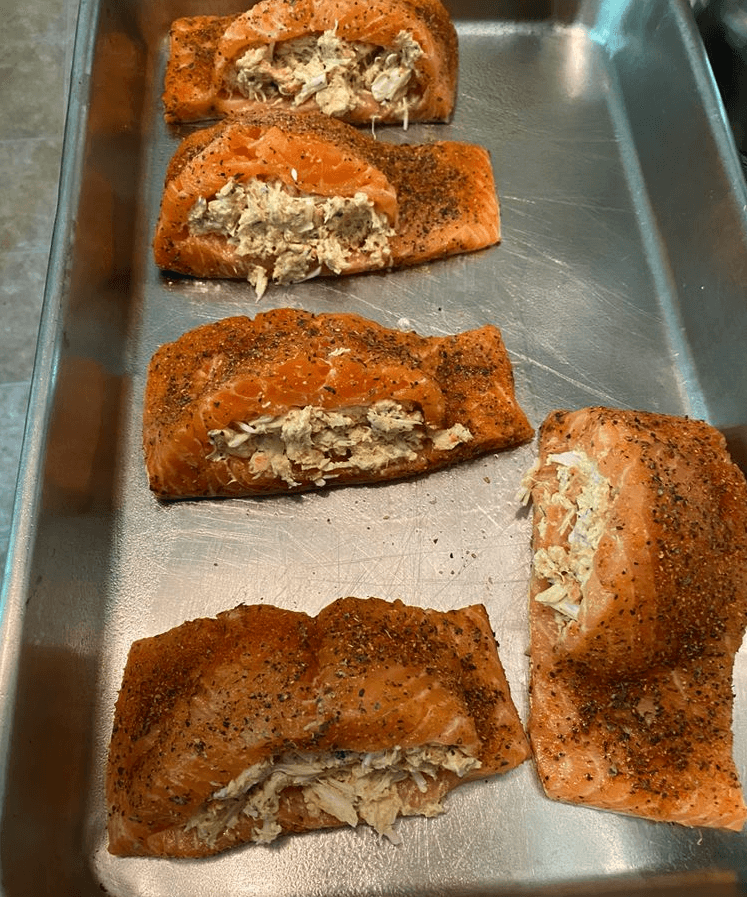 Tender, juicy fillets of salmon, a dream-boat filling of cream cheese, spinach, mozzarella, and Parmesan, and exactly 10 minutes of prep, this five-star Stuffed Salmon is the kind of epically impressive, yet paradoxically easy, recipe that will have you swearing off ever going out to eat again.
After all you'll tell yourself, why should you dress up, pay good money, wait for a seat, and suffer outrageous markup on wine in a restaurant, when you can make a chef-level dish like this elegant spinach stuffed salmon at home?
Michelin star who? Michelin star YOU!
Ingredients
4 teaspoons extra virgin olive oil divided
5 ounces fresh baby spinach about 5 cups
1 clove garlic minced (about 1 teaspoon)
¾ teaspoon kosher salt divided
1/2 teaspoon black pepper divided
Pinch red pepper flakes
¼ cup reduced-fat cream cheese
1/4 cup shredded part-skim mozzarella cheese
¼ cup finely grated Parmesan
4 6 ounce salmon fillets skin off or on
Instructions
Place a rack in the center of your oven and preheat oven to 425 degrees F. For easy clean up, line a large rimmed baking sheet with parchment paper.
Heat 2 teaspoons of the oil in a medium non-stick skillet over medium-high heat. Add a big handful of spinach and cook, stirring often, until it begins to wilt. Stir in the garlic, ¼ teaspoon salt, 1/4 teaspoon black pepper, and red pepper flakes and let cook 30 seconds. Continue adding the remaining spinach by large handfuls, until it completely wilts down. Remove the pan from the heat.
Stir in the cream cheese until it melts and smoothly combines with the spinach. Stir in the mozzarella cheese and Parmesan, until the cheeses melt and the mixture looks like a delicious spinach and dip.
Place salmon fillets on a clean work surface. With a small, sharp knife, make a cut lengthwise down the middle of each fillet to create a pocket (do not cut the fish all the way through). Transfer the salmon to the prepared baking sheet. Sprinkle evenly with the remaining ½ teaspoon salt. With a small spoon, fill each fillet with a quarter of the spinach mixture.
Drizzle the remaining 2 teaspoons olive oil over the fillets and brush with a pastry brush or lightly rub with your fingers to coat. Sprinkle with the remaining 1/2 teaspoon salt and 1/4 teaspoon black pepper. Place the sheet pan in the oven and bake until the salmon is opaque in the center and flakes easily with a fork, 8 to 10 minutes.