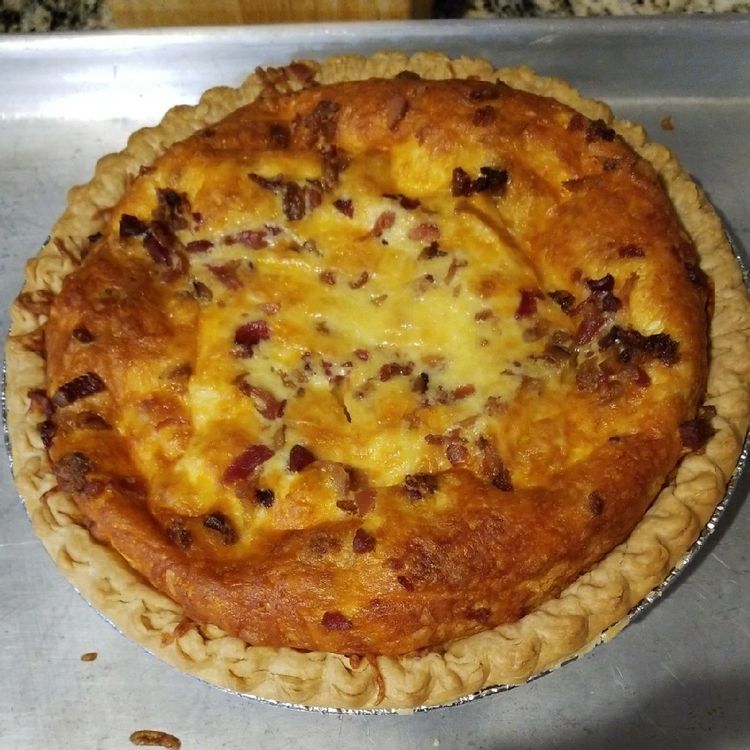 This is an easy, delicious quiche that will take no time to prepare and your friends will ask for the recipe! I have made this for numerous office gatherings and everyone raves about it!
I omitted the cream, and used a 8oz pkg of cream cheese. I also used cheddar instead of the 2 cheeses called for. Instead of making 1 big tart, I made a mini ones to serve at an appie party. everyone LOVED them.
This was a very very easy quiche to make I was a virgin quiche baker (lol) and it came out FAB!!! I will definitely add this to my rotation of recipes. I added sauteed fresh mushrooms and green peppers.
This quiche is so quick and yummy! I usually just make it with a bag of shredded Italian cheese and leave out the onions because my kids don't like them.
This recipe is simply and easy. I like to saute the onions first and add a 1/2 tsp of fresh grated nutmeg. I also use 8 strips of crispy bacon instead of bacon bits.
This was awesome!! I added ham cubes and put 2.5 ounces mozzerella and 2.5 ounces swiss cheese. My kids loved it so much they asked if we could have it again tonight!!
Ingredients :
5 green onions, chopped, divided
1 tomato, chopped, divided
12 slices Bacon
1 cup sliced fresh mushrooms
12 eggs
1/3 cup Light Sour Cream
1 cup 2% Milk Shredded Cheddar Cheese
1 cup 2% Milk Shredded Mozzarella Cheese
Directions :
Heat oven to 325ºF.
Reserve 2 Tbsp. each onions and tomatoes. Cook bacon in large skillet until crisp. Remove bacon from skillet, reserving 1 Tbsp. drippings in skillet. Drain bacon on paper towels. Add mushrooms to reserved drippings; cook and stir 2 min. or until tender. Remove from heat. Crumble bacon. Add to skillet with remaining onions and tomatoes; mix well.
Beat eggs and sour cream with whisk until well blended. Pour into greased 13×9-inch baking dish; top with bacon mixture and cheeses.
Bake 30 min. or until center is set. Top with reserved onions and tomatoes. Let stand 5 min. before cutting to serve.