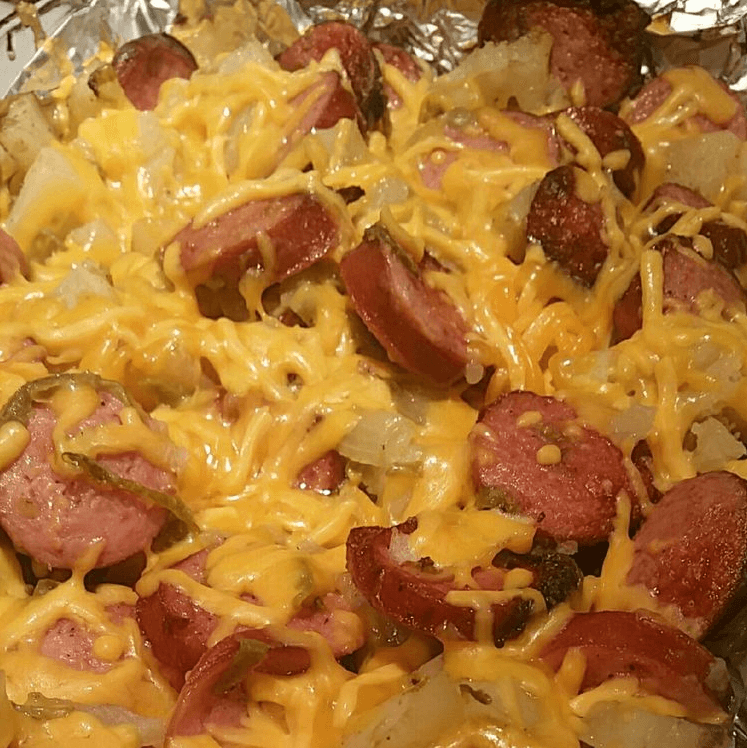 I thought it was time this recipe needed some new pics. Updated 8/19/15
I shared this recipe on my facebook page about a week ago. Little did I know, that this post would soon have over 600,000 views, 20,000 some shares, and over 100 comments! This post was so popular, that it has gained me 500 new fans in less than 5 days. Yes, all you readers and facebook page owners out there, it is possible to get new likes and fans without having to have some kind of giveaway on your website!
Since this post was so popular, I decided to go ahead and give it a try. This is such a simple and easy meal. It takes less than 10 minutes to chop everything up and it takes 40 minutes in the oven to make. At first, when I tried this, I used this really awful spicy sausage. I got it, thinking that it wouldn't be that spicy but holy heck, this was the most spiciest sausage I've ever had. Ben did not like this either. I got a better sausage that wasn't spicy at all and this was a really fast easy meal to make. I want to try it with eggs once. Top with cheese and some pretty greens like scallions or parsley to garnish.
Ingredients:
1 package of smoked sausage, sliced into rounds
1 large onion, peeled and chopped
5 large potatoes, peeled and chopped into ½ inch cubes
olive oil
fine sea salt
freshly ground black pepper
sweet paprika
dried thyme
a handful of greated strong cheddar cheese
Directions:
Preheat the oven to 400*F.
Line a large baking tray (with sides) with several sheets of foil, and spray with cooking spray. Set aside.
Put the sausage rounds, onions, and potatoes into a large bowl. Drizzle with a couple TBS of olive oil and season to taste with salt, pepper, paprika and dried thyme. Toss together with your hands until everything is evenly distributed. Pour this out onto the baking tray, and spread it out as much as you can.
Place into the heated oven and roast for 45 minutes to an hour, stirring every 15 minutes or so, until the potatoes are golden brown and tender. Turn off the oven.
Scatter the cheese over top of the cooked meat and potatoes, Pop back into the oven a few minutes to melt the cheese.