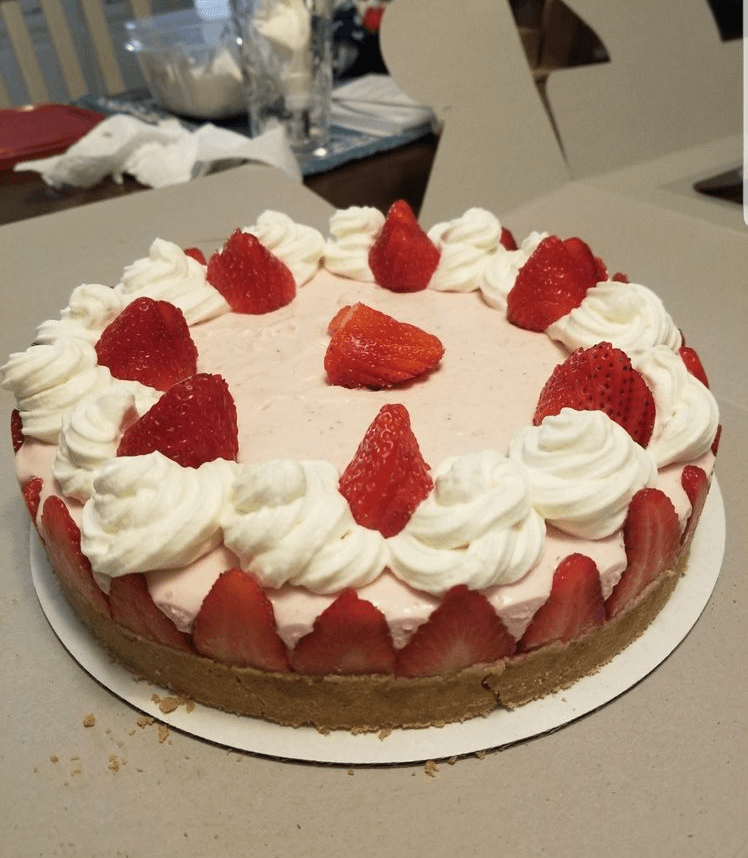 You know what we love? Delicious no-bake desserts that we can make all summer long without overheating our kitchens and giving ourselves heat stroke. Seriously, baking anything when it's hot out is a recipe for disaster, but it's always sad when we get a hankering for something and then have to curb that craving because it's too much of a hassle to make…which brings us to today's recipe: no-bake strawberry cheesecake!!
To avoid having a mixture full of eggs that needs to bake (and then cool) in the oven, we use frozen whipped topping and gelatin as the thickening agents in this fruity cake. You start with a typical graham cracker crust – we prefer ours on the thicker side with this recipe – then you prep your gelatin by dissolving it in warm water. Purée your strawberries along with the gelatin blend, which will add stability to your tall cheesecake, and then mix everything together with your cream cheese mixture. This makes one, heaping cheesecake, or you could make two to three smaller cakes…but really, there's no way you can go wrong here.
What we love about this lofty dessert is how impressive it is (in taste and appearance), without being too heavy. With some cheesecakes that are super rich, you take a couple bites and then feel like you can't move. For better or for worse, that's not the case here and you can just keep digging into this tasty confection! For a tasty dessert that looks just as lovely, this is the perfect option to keep in your back pocket all summer long.
INGREDIENTS
Crust:
30 graham crackers, ground into crumbs
6 tablespoons unsalted butter, melted
2 tablespoons sugar
Filling:
2 (8 oz.) packages cream cheese, room temperature
3 cups strawberries, hulled, plus extra for garnish
1 cup plain Greek yogurt
2/3 cup water
1/2 cup sugar
2 (.25 oz.) packets unflavored gelatin
1 (8 oz.) container frozen whipped topping
Red gel food coloring, optional
Whipped cream, garnish
PREPARATION
In a large bowl, mix together graham cracker crumbs, sugar and butter, until mixture resembles damp sand.
Pour into springform pan and use your hands or the bottom of a measure cup to form into an even layer. Refrigerate until ready to use.
Microwave 2/3 cup water for 30 seconds, then sprinkle in gelatin powder and whisk until fully dissolved.
Place strawberries in food processor and pour in gelatin mixture, then pulse for 30-60 seconds, or until smooth.
In a large bowl, beat cream cheese until soft and fluffy, then mix in sugar and yogurt, mixing until combined.
Once strawberry gelatin mixture is blended and smooth, gently fold into cream cheese mixture, along with frozen whipped topping. Add red food coloring here, if desired.
Once everything is fully incorporated, transfer mixture to springform pan and smooth into an even layer.
Refrigerate for 4-6 hours, or until set, then remove outer ring of springform pan, slice, serve and enjoy!