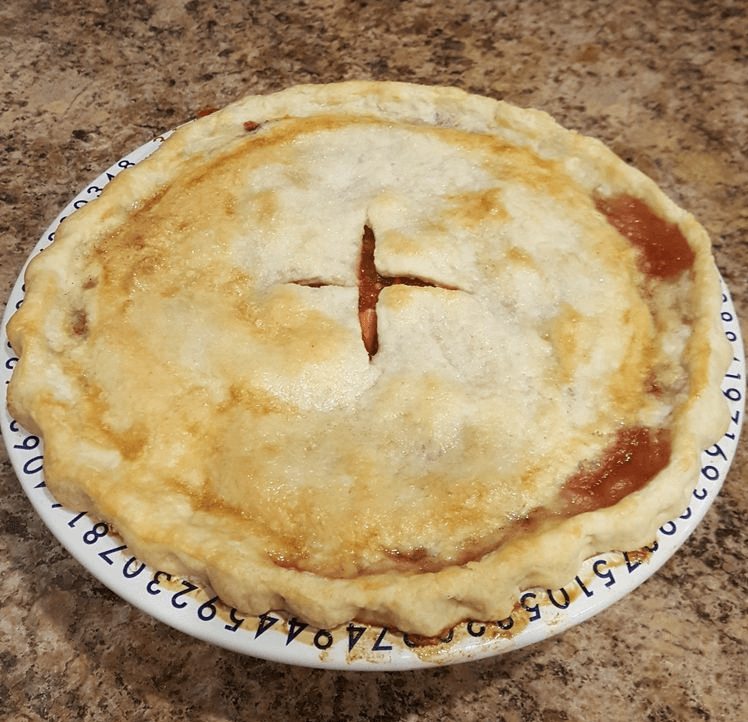 Hard to find the best recipe for rhubarb pie but this one is infallible! That's what grandma used to say! If you've never tried to make this before
it's easy and so delicious. Strawberries and rhubarb go perfectly with this tart. A little sour and a little sweet.
The best pies
Of course, as we grow up, we always remember that Grandma made the best of everything.
It's a pie that comes to mind because everything, from the crust to the filling, was made from scratch.
It was a pie rich in flavor and a labour of love!
To this day, all I can think about is her rolling out the dough and me impatiently waiting to take this pie out of the oven!
Of course, you can make a whole crust if you don't want to treat yourself to a lattice!
Ingredients
CRUST :
2 cups all-purpose flour, plus extra flour if needed, up to 1/4 cup
1/2 cup cake flour (recommended: soft as silk)
3 teaspoons sifted powdered sugar
1/2 cup butter-flavoured shortening (recommended: Crisco)
1/4 cup salted butter
Pinch of salt
1 egg
2 teaspoons of vinegar
1/4 cup of ice cold water
FILLING :
2 1/2 cups chopped red rhubarb, fresh
2 1/2 cups strawberries, hulled, washed and cut (in large pieces)
1 1/2 cups of sugar (1 1/4 cups for high altitude)
2 tablespoons of tapioca minute
1 tablespoon all-purpose flour
1/2 teaspoon lemon zest
1/2 teaspoon of lemon juice
1/2 teaspoon ground cinnamon
1 teaspoon vanilla extract
3 tablespoons of butter, cut into small cubes
1 egg white beaten with 1 teaspoon of water
Large granulated sugar
Itinerary
Preparation of the crust :
Using 2 pastry blenders, mix flours, sugar, shortening, butter and salt. Beat the egg, vinegar and water to a 2 cup measure and pour over the dry ingredients, incorporating all the liquid without overworking the dough. Mix the extra flour over the ball of dough and refrigerate if possible. Divide the dough into 2 discs. Roll out 1 piece of dough to obtain a lower crust. Place in a pie dish. Put the dish in the refrigerator to cool.
Preheat the oven to 425 degrees.
Preparation of the filling :
Mix the rhubarb, strawberries, sugar, tapioca, flour, lemon zest and juice, a little cinnamon and vanilla. Mix well in a large bowl and pour into the cooled crust. Brush the top of the filling with butter. Brush the edges of the pie crust with egg white. Roll out the other piece of dough and place it on top of the filling. Crimp to seal the edges. Brush with egg white and garnish with powdered sugar. Stick with aluminum foil and bake in the oven at 425 degrees F for 15 minutes. Lower the temperature to 375 degrees F and bake for an additional 45 to 50 minutes, or until the filling begins to bubble. At higher altitudes, the temperature should reach 450 degrees F and 400 degrees F respectively. You can also use a pie crust for decoration. Let cool before serving.