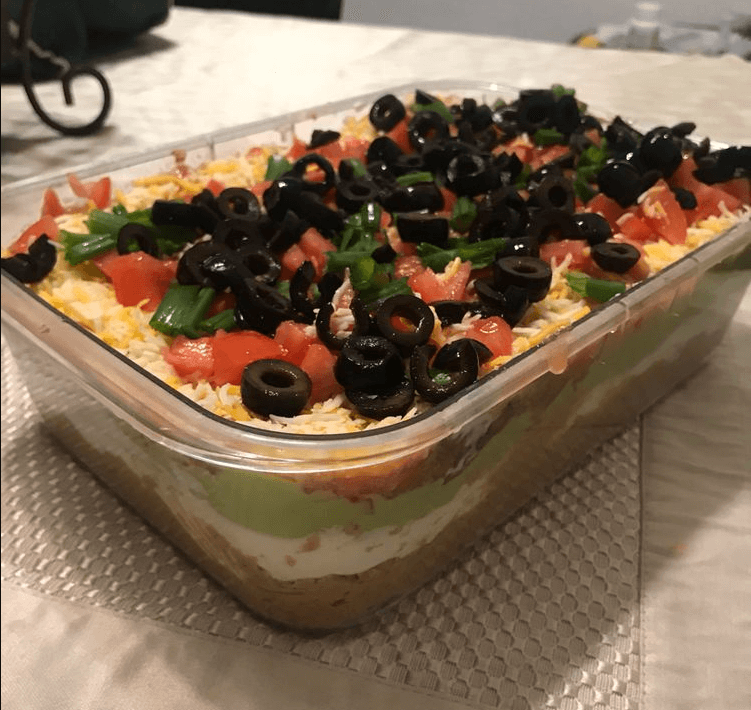 I am continuously asked to bring this dip for parties and family get-togethers. People gather around the platter until it's gone.
Great recipe, thank you. One word of advice on the container you put it in, an 11 x 7 is no where near large enough. I ended up leaving out the lettuce, not that any one cared!
This recipe is very good as is, but is also easy to alter to personal taste. I have took suggestions of others and added 1 lb. of hamburger to the taco seasoning and guacamole instead of lettuce, both very good.
I make a recipe very similar to this. I do not use lettuce (as it tends to wilt as it sits out) and I don't use green pepper. Even though I love green pepper, I don't feel it belongs in this recipe (just my opinion).
I'm a big fan of taco dip, so I LOVED this recipe. I've made it many times and everyone always loves it. I think it's way better without meat in it. I find that I can't have it in the refrigerator, because if I do I'll eat it for breakfast, lunch and dinner.
INGREDIENTS :
2 avocado, NS as to Florida or Californias avocados – peeled, pitted and diced
1 ½ tablespoons fresh lime juice
¼ cup chopped fresh cilantro
¼ cup salsa
garlic salt to taste
ground black pepper to taste
1 (8 ounce) container sour cream
1 (1 ounce) package taco seasoning mix
4 plum tomato (blank)s roma (plum) tomatoes, diced
1 bunch green onions, finely chopped
1 (16 ounce) can refried beans
2 cups shredded Mexican-style cheese blend
1 (2.25 ounce) can black olives – drained and finely chopped
INSTRUCTIONS :
Step 1: In a medium bowl, mash the avocados. Mix in lime juice, cilantro, salsa, garlic salt and pepper.
Step 2: In a small bowl, blend the sour cream and taco seasoning.
Step 3: In a 9×13 inch dish or on a large serving platter, spread the refried beans. Top with sour cream mixture. Spread on guacamole. Top with tomatoes, green onions, Mexican-style cheese blend and black olives.