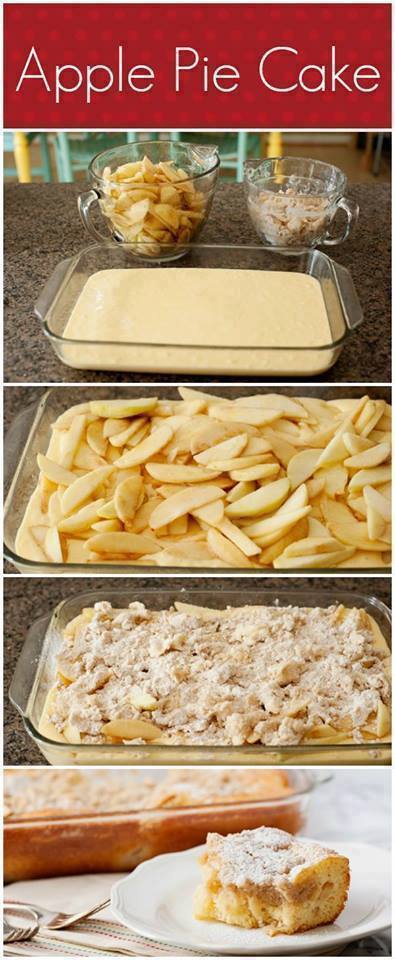 I have a confession to make: This cake came out of my desire to not make a pie crust. And not to have to run to the grocery store the night before Thanksgiving. I was planning on making an apple crumb pie and just did not feel like dealing with pie crust. I was tired, sick of cleaning my kitchen and so over washing dishes and ready to call it a night.
So I took a look around my pantry and found a box of cake mix. Perfect, always a good place to start. I combined it with traditional apple pie filling ingredients and the rest is history. Sometimes the best ideas are born out of necessity, right?
"My mum taught me this recipe when I was just learning to bake, and I still use it for parties as it is a crowd-pleaser. it is super quick and easy to make. A dollop of vanilla ice cream tops it very well."
Ingredients:
Topping
1cup Gold Medal™ all-purpose flour
1/2 cup packed brown sugar
1/4 teaspoon salt
1/2 cup butter, cut into small pieces
Apple Mixture
6 apples, peeled, thinly sliced
3 tablespoons packed brown sugar
1 teaspoon ground cinnamon
2 teaspoons lemon juice
Cake
1 box Betty Crocker™ SuperMoist™ yellow cake mix
1 1/3cups water
1/3 cup oil
3 eggs
Directions:
1 Heat oven to 350°F (325°F for dark or nonstick pan). Spray bottom and sides of 13×9-inch pan with baking spray with flour.
2 In medium bowl, stir together flour, 1/2 cup brown sugar and the salt. With pastry blender or fork, cut in butter until mixture is crumbly. Set aside.
3 In another medium bowl, gently stir together Apple Mixture ingredients; set aside.
4 In large bowl, beat Cake ingredients with electric mixer on low speed 30 seconds, then on medium speed 2 minutes, scraping bowl occasionally. Pour into pan.
5 Spread apple mixture evenly over cake batter. Sprinkle Topping evenly over top.
6 Bake 30 to 35 minutes or until toothpick inserted in center comes out clean. Cool completely, about 30 minutes.