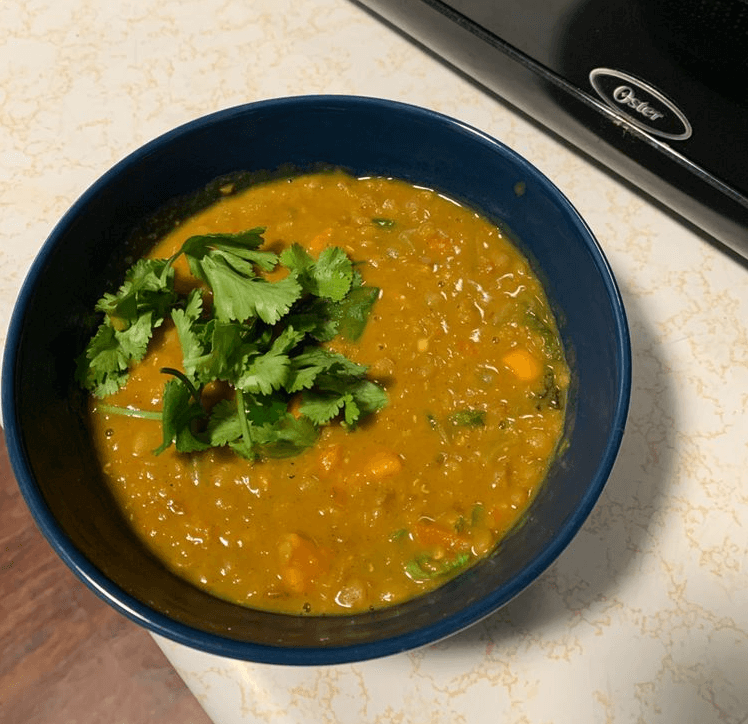 This soup recipe took a long time to arrive! Over the years, I've made some tasteless lentil soups that never saw the light of day on this site. But no vegetarian cooking blog would be complete without a good lentil soup, so I developed one of my own soups.
Here it is. My lentil soup is made mostly with ingredients from the pantry, but it contains greens and a little lemon for a fresh and vibrant taste. It is seasoned with some of my favourite spices and lots of freshly ground black pepper. Honestly, it's the best lentil soup I've ever had.
The original title of this recipe was "Spiced Vegan Lentil Soup", which is accurate, but a mouthful. With over 500 five-star reviews, I think it can be called the best lentil soup. Period.
Whether you're looking to lighten your meals or warm up with a steaming bowl of soup, this healthy lentil soup recipe is for you! It's one of my favourites and I hope it becomes a staple in your kitchen as well.
Ingredients
¼ cup of extra virgin olive oil
1 medium yellow or white onion, chopped
2 carrots, peeled and cut
4 cloves of garlic, pressed or chopped
2 teaspoons ground cumin
1 teaspoon of curry powder
½ teaspoon dried thyme
1 large can (28 ounces) diced tomatoes, lightly drained
1 cup brown or green lentils, picked and rinsed
4 cups of vegetable broth
2 cups of water
1 teaspoon of salt, more to taste
Pinch of red pepper flakes
Freshly ground black pepper to taste
1 cup chopped fresh green cabbage or kale, without ribs
1 to 2 tablespoons of lemon juice (½ to 1 medium lemon), according to taste
Instructions
Heat the olive oil in a large oven or pot over medium heat. A quarter cup of olive oil may seem like a lot, but it adds richness and taste to this nutritious soup.
Once the oil is shiny, add the chopped onion and carrot and cook, stirring often, until the onion has softened and becomes translucent, about 5 minutes.
Add the garlic, cumin, curry and thyme. Cook until fragrant, stirring constantly, about 30 seconds. Pour in the drained diced tomatoes and cook for a few more minutes, stirring often, to enhance their flavor.
Pour in the lentils, broth and water. Add 1 teaspoon of salt and a pinch of red pepper flakes. Season generously with freshly ground black pepper. Increase the heat and bring the mixture to a boil, then partially cover the pan and reduce the heat to a gentle simmer. Cook for 25 to 30 minutes, or until lentils are tender but retain their shape.
Transfer 2 cups of the soup to a blender. Close the lid tightly, protect your hand from steam with a cloth placed on the lid, and puree the soup until smooth. Purée the soup back into the pot (you can also use an immersion blender to blend some of the soup).
Add the chopped greens and cook for an additional 5 minutes, or until the greens have softened to your liking. Remove the pot from the heat and stir in a tablespoon of lemon juice. Taste and season with more salt, pepper and/or lemon juice until the flavors really kick in. For a spicier soup, add a pinch or two of red pepper flakes.
Serve hot. Leftovers keep for about 4 days in the refrigerator, or can be frozen for several months (simply thaw before serving).