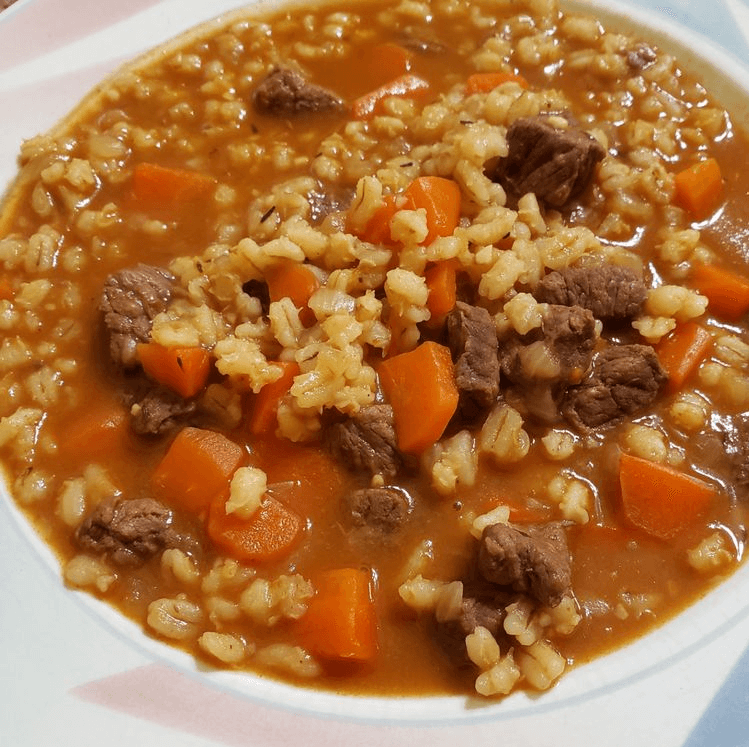 It is the perfect soup for a cold winter day. It will fill you up, it's full of amazing flavors! Kids will love it too!
This soup is fantastic! Simply delicious and so healthy too! I love barley soup and the kids love it too. I like to make lots of it and freeze it. It's always great to have soup in the freezer for when someone gets sick.
It can also be made in the crock pot or slow cooker. After browning the beef, add all the ingredients to the slow cooker. Cook over low heat for 4 to 6 hours or until the carrots are cooked.
Servings 10 servings
Cooking time 40 minutes
INGREDIENTS :
* 1 pound boneless pallet roast, trimmed and cut into half-inch pieces
* 1 1/2 cups of carrots cut into thin strips
* 1 1/2 cups thinly sliced celery
* 2/3 cup chopped onion
* 1 package of pre-sliced 8-ounce mushrooms
* 2 tablespoons of beef base (it's different from beef broth; it's a base to make beef stock)
* 8-10 cups of water
* 1 large bay leaf
DIRECTIONS :
1. Brown beef in a nonstick skillet, stirring frequently.
2. Remove beef from skillet and place in slow cooker. Add carrot, celery, onion and mushrooms, beef base, water, garlic and bay leaf.
3. Cook over high heat for one hour, add the pearl barley, then reduce heat to low and cook until vegetables and beef are soft. Stir in the salt and pepper.
4. Discard the bay leaf.