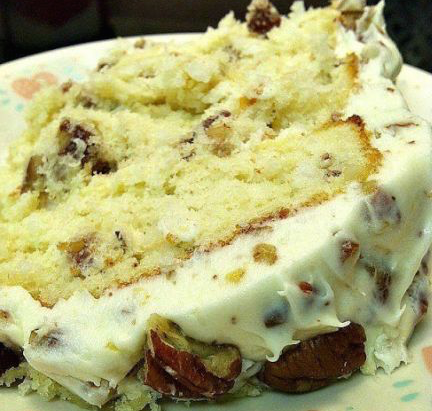 This cake is wonderful! I made it for my sisters birthday and it looked and tasted fantastic. The recipe is easy and the baking time accurate. The icing was smooth and perfect.
Wow! Everyone loved this cake! I doubled the coconut and pineapple, left out the pecans (cuz I didn't have any on hand) and Wahlaaaahhhh. Moist, tasty, rich. I made a cream cheese flavored with real rum frosting and yummy!
I have been cooking for over 40 years and have plenty of experience baking. This is one of the best cake recipes that I have ever tried.
This is the best cake I have ever made. It was delicious! I love this cake. Unlike other cakes this one tastes better the older it get's. I have no problem with making it a few days before I need it other than it being devoured.
This is the best cake I have ever made. It was delicious! I brought it to work and got compliments on it all day long. It actually tastes like those cakes you buy in expensive bakeries!
Ingredients :
1 (16.25-ounce) package of white cake mix for me I used Duncan Hines Moist Deluxe
3 large eggs
1 1/4 cups buttermilk
1/4 cup vegetable oil
1 (3 1/2ounce) can of flaked coconut
2/3 cup toasted and chopped pecans
3 tbsps Rum (optional)
Cream Cheese Frosting
Preparation :
Beat together the white cake mix, eggs, buttermilk and vegetable oil at medium speed with an electric mixer 2 minutes then stir in the coconut and pecans. Pour into 3 greased and floured 9-inch round cakepans.
Bake Bake for 15 to 17 minutes at 350°, until a wooden pick inserted in center comes out clean. Cool in pans on wire racks 10 minutes. Remove from pans, and cool completely on wire racks.
Sprinkle each cake layer evenly with rum, if desired; let stand 10 minutes.
Spread Cream Cheese Frosting between layers and on top and sides of cake. Chill 2 hours before slicing