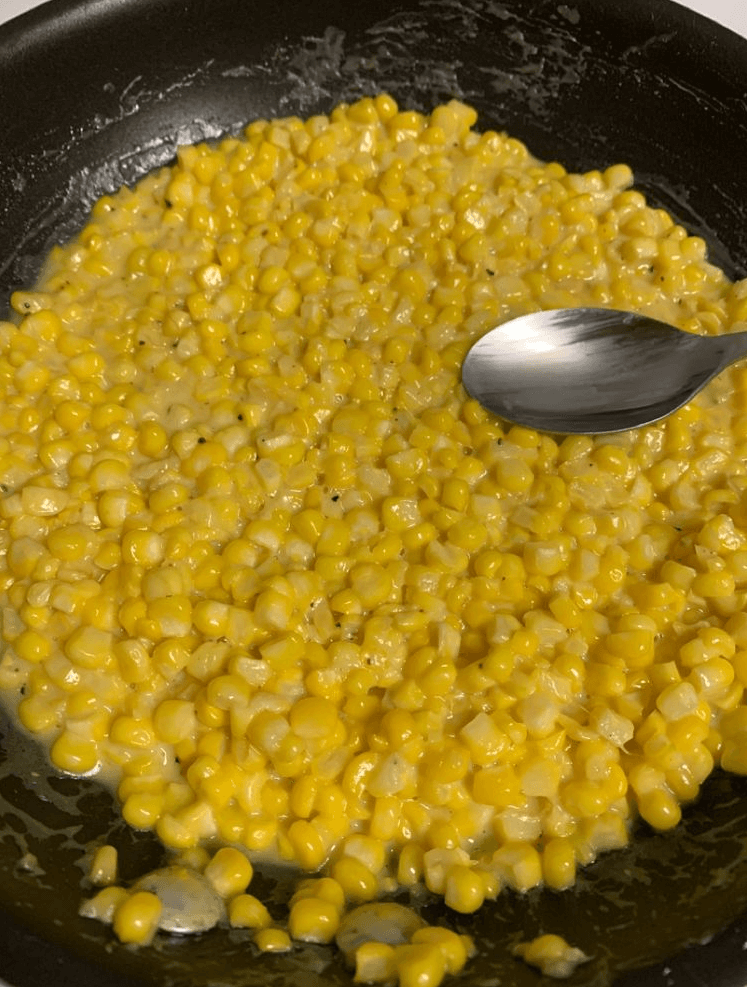 One of the only vegetables my family all agrees on is corn! My kids love corn on the cob, cornbread, corn casserole, and just plain old canned corn or frozen corn. This honey butter skillet corn is so creamy, sweet, delicious, and something everyone loves.
It cooks in one skillet pan and it uses frozen corn! Simple to make with only 4 ingredients + salt & pepper.
INGREDIENTS YOU NEED FOR SKILLET CORN
Butter – I always use salted butter. If you use unsalted butter than you may need to add additional salt. Just taste and add more to preference.
Honey
Frozen Corn – I prefer the gold n' white corn for this recipe but any frozen corn will work. Like sweet yellow corn, white corn, or yellow corn.
Cream Cheese – You only need 2 ounces of cream cheese for this honey butter skillet corn recipe. One block is 8 ounces so you will have some leftover. Which means you will just have to make it again 🙂
Honey Butter Skillet Corn is an easy 15 minute side dish with frozen corn, honey, butter, and cream cheese! So creamy, sweet, and delicious.
Ingredients
2 tablespoons butter I use salted
2 tablespoons honey
1 bag (16 oz) frozen corn
2 ounces cream cheese cut into chunks
1/4 teaspoon salt
1/4 teaspoon black pepper
Instructions
In a skillet pan, over medium-high heat, melt the butter and honey. Once melted add the frozen corn and cook for 5-8 minutes, stirring occasionally, until cooked through.
Add cream cheese, salt, and pepper. Stir together and let it cook, about 3-5 minutes, while stirring occasionally.
Serve immediately. Leftovers keep well, covered in a container, and stored in the fridge.
Notes
The recipe has 6 side dish servings and the nutrition facts are for 6 servings, but if you are feeding little kids you can probably get closer to 8 servings from this recipe.
I love using the gold n' white corn for this recipe but any frozen corn will work. Make sure it is the 1 lb (16 oz) bag of frozen corn.