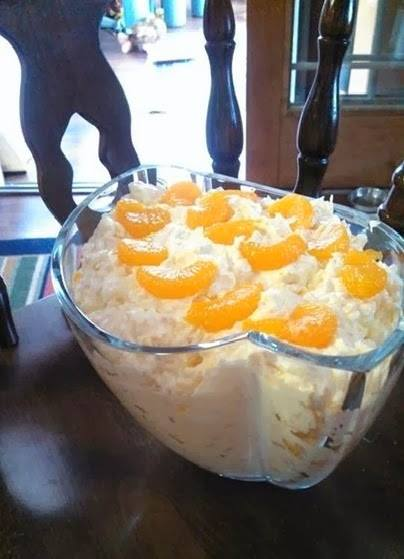 This mandarin salad always makes an appearance at our family reunions and is so yummy! It comes from my Aunt's 'Favorites' cookbook and everyone loves it! In her original recipe, she also adds in green onions, mushrooms, avocado and tomatoes, however my family prefers the orange salad with just mandarins, cranberries and nuts. This spinach salad with mandarin oranges is so versatile…you can really add in anything and it would still be just as delicious! Just make sure to keep in the mandarin oranges because that's what makes the whole salad recipe! It is SO good!
INGREDIENTS:
1 pkg Vanilla Instant Pudding Mix (use dry) I would use sugar free
1 Large can Crushed Pineapple (undrained)
2 Medium/Large cans Mandarin Oranges (drained)
1 pkg Cool Whip 8 oz ( and you could use fat free)
DIRECTIONS
Mix together Cool Whip and Instant vanilla pudding (do NOT make the pudding, just use it dry).
Add undrained crushed pineapple and both cans of drained Mandarin Oranges. (Use as many mandarins as you like, more/less) Save a few mandarin oranges to decorate the top of salad. Refrigerate until it thickens again maybe a couple of hours before you need to use it.
Use as a side dish with a meal or serve with ice cream as a dessert!
You can make this healthier by choosing low/no sugar instant pudding mix and cool whip, and fresh mandarins.
I particularly like the whipped cool whip for my salad as per the original.
Try it a few times to see what suits you best.