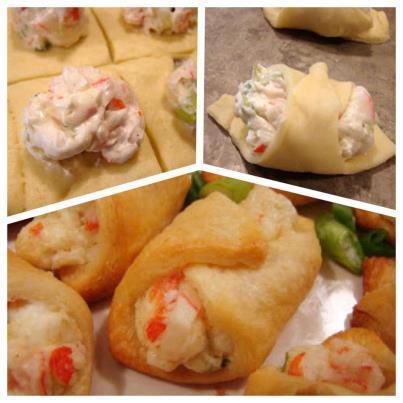 This hot crab and cheese dip is the ultimate party snack! Chunky crabmeat is cooked in this luxurious sauce with cream cheese, sour cream, strong cheddar and a few drops of hot sauce.
We are 3 days away from the New Year, my friends. We made it!
As we recover from the food coma that is Christmas, it's time to plan what we are going to eat as the ball drops in the New Year's camp and when I think of New Year's, I think of crabmeat.
It's decadent, cheesy, but at the same time a bit elegant. It also goes perfectly with champagne, cocktails or whatever you drink to welcome the New Year.
For me, maybe it's iced tea so I don't fall asleep before the countdown. It's sad but true.
HOW TO MAKE A HOT CRAB AND CHEESE SAUCE
Ingredients :
Tube of croissant dough from 1 to 8 oz.
3 oz cream cheese, softened
1/4 cup mayonnaise
3/4 cup cooked crabmeat, chopped
2 green onions, chopped
1/8- 1/4 teaspoon cayenne pepper
salt and pepper to taste
Instructions :
Heat the oven to 375°F. Spray cookie sheet with cooking spray. Unroll the dough on the work surface. Pinch the seams to seal and roll with a rolling pin to create a regular rectangle. Cut into 6 rows by 4 rows to make 24 squares.
In a small bowl, mix the cream cheese, mayonnaise, crabmeat, onion and red bell pepper. Season to taste with salt and pepper. Divide the crab mixture evenly among the squares, dropping it with 1/2 inch spoons from one corner of each square. Starting at the same corner, fold the dough over the filling and fold the end under the filling; continue rolling until 1/2 inch from the opposite corner. Roll the opposite corner of the dough onto the roll; press to seal. Place on cookie sheet. Brush with egg white, if desired.
Bake for 10 to 15 minutes or until golden brown. Remove from cookie sheet. Serve warm.
source: Allrecipes.com