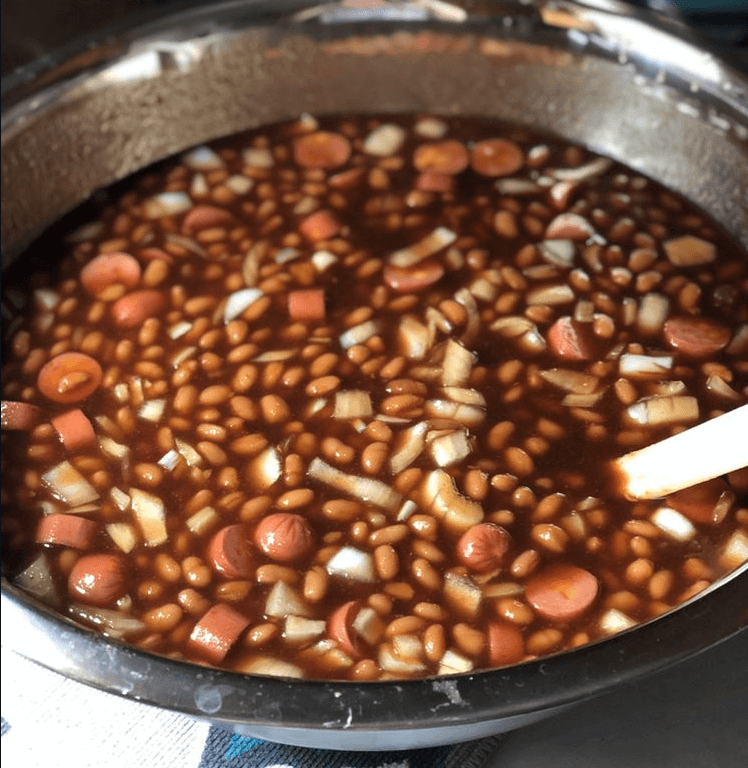 It is one of my mother-in-law's recipes. It's delicious with grated cheddar cheese. The leftovers will be even better the next day.
It tastes the same as when my southern mother told me we were going to dinner at Beanie-Weenie's. I loved presenting a souvenir to my children. No, it's not lobster, but it's a good beanie-weenie's.
I've done it several times now and the use of vegan ingredients and the intensity of the flavour of the garlic, sauce, etc. make this meal so satisfying. I add a bit of cinnamon, not to taste it, but to help melt the flavors. I love this sauce with grilled (vegan) cheese! I think it would be fantastic as a slow cooker dish.
It's really good. I had to take the wallpaper off my closet, so I wanted something really easy to make. I put it in the slow cooker for 3 hours using fresh garlic in a low dose and used 2 to 16 oz cans of pork and beans. I put jasmine rice on top. What really sets this product apart from the others is the acidity of the cider vinegar. The best of the little guys!
Ingredients
4 hot dogs, sliced
30 ounces of large northern beans, rinsed and drained
1 tablespoon of spicy mustard
1/4 cup ketchup
3 tablespoons of molasses
1 teaspoon of salt
4 slices bacon, cooked and cut into 1-inch pieces
3 tablespoons of brown sugar
Instructions
Heat a large cast-iron frying pan or saucepan over medium heat.
Stir in cut hot dogs until golden brown.
Add giant northern beans, spicy mustard, ketchup, molasses, salt, bacon and brown sugar. Continue to heat and stir until all ingredients are blended and the sugar is completely dissolved.
Serve hot.
If you tried this recipe, come back and let us know how it was!