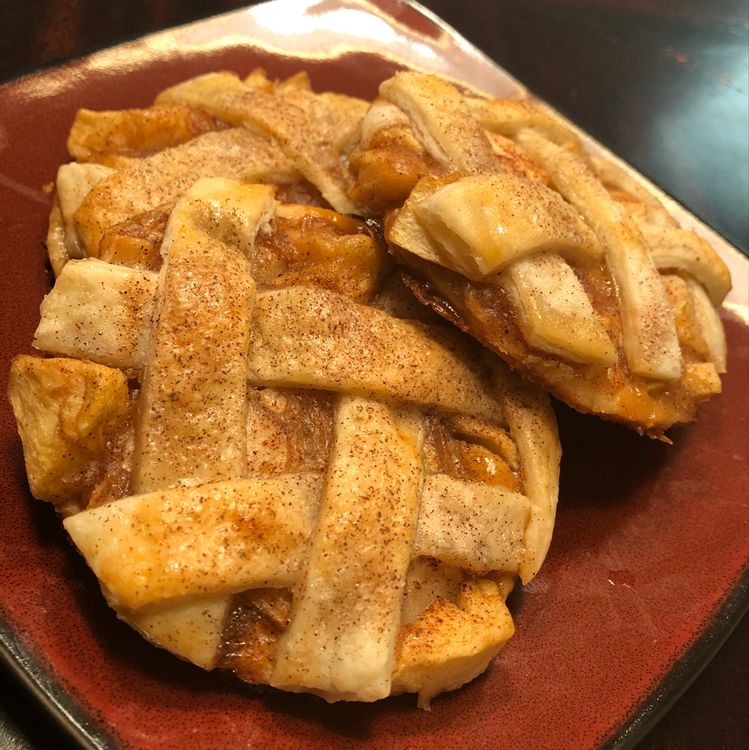 Made with cream cheese, a warm apple filling, and dusted with cinnamon sugar… These things go quick in my house.
These are amazingly good. Huge hit at an event last week. I made a double batch and was glad I did!!! I used a 2 1/4″ cutter and it worked well, could make them a tiny bit bigger, but not much.
I lov this recipe and i did the same size cutter as the reviews say. I also had left over pie filling so I put I the left overs on the top of the cookies
Delicious! I used only two teaspoons vanilla as two tablespoons seemed wrong. A wine glass two inches across made 24 cookies.
I did this with Gluten Free flour. it was still easily worked and very tasty! will definitely make this again
INGREDIENTS :
1 cup butter
6 ounces cream cheese, softened
2 tbsp vanilla extract
2 cups all-purpose flour
5 tsp white sugar
2 tsp baking powder
1 tsp ground cinnamon
(1) (15.25 ounce) can apple pie filling, or as needed
2 tbsp sugar, or to taste
1 tsp ground cinnamon, or to taste
INSTRUCTIONS :
Preheat oven about 350 degrees F (175 degrees C). Line 2 baking sheets with parchment paper.
In a large bowl, beat the butter, cream cheese, and vanilla extract until smooth. Add flour, 5 tsp sugar, baking powder, and a tsp of cinnamon; mix until the dough comes together.
Roll it (dough) onto a floured work surface into a 1/4-inch thick round. Cut out 48 circles with a cookie cutter.
Add and top 24 dough circles with a teaspoon of apple pie filling. Cover with the remaining 24 dough circles. Crimp edges with a fork to seal. Arrange cookies on lined baking sheets.
Bake until cookies are golden brown for 23 to 29 minutes in the preheated oven. Let it cool for 5 minutes.
In a shallow bowl, mix 2 tbsp sugar and a tsp cinnamon. Roll the warm cookies in sugar and cinnamon mixture until coated. Transfer to a wire rack to cool, about 10 minutes.